James Van Der Beek: 'Fatherhood Changes You from the Inside Out'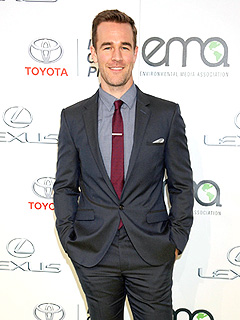 Gregg DeGuire/WireImage
These days, alone time isn't something James Van Der Beek is used to.
"The other day, I had a morning to myself in the house and I didn't know what to do with myself," the actor, 36, told PEOPLE on Saturday at the Environmental Media Awards in L.A. "I had about 45 minutes before I had to go to work and there was nobody in the house. I had no idea what to do!"
And as Van Der Beek points out, sacrificing me-time isn't the only thing that comes along with being a dad.
"I think fatherhood changes you from the inside out," the former Dawson's Creek star said. "It's not this thing where you think, 'Oh, I have to be responsible, I have to take more on.' You just want to, almost automatically."
With 3-year-old daughter Olivia, 19-month-old son Joshua, and wife Kimberly expecting the couple's third child, Van Der Beek proudly asserts that the family is "rapidly expanding our ranks," but with more responsibility comes less free time, a fact the actor has happily come to terms with.
So what did Van Der Beek, who can be seen alongside Kate Winslet, Tobey Maguire and Josh Brolin in the upcoming film Labor Day, do with the rare and magical gift of finding himself alone at home?
"I did the dishes!" he says with the happy resignation only a father knows. "I know. I didn't know what to do with myself."
— Reagan Alexander