Matilda Ledger Wears Cute Tee with Mom Michelle Williams's Face on It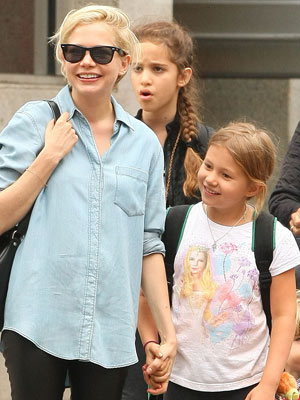 INF
Well, it looks like there's a new member of the celebrity mom and dad fan club.
On Wednesday, Matilda Ledger sported a pink tee featuring her mom Michelle Williams from her film Oz, the Great and Powerful.
The happy twosome caught our eye as they walked hand-in-hand on the way home from school in Brooklyn and we couldn't help but notice the almost 8-year-old's sweet homage to her mother.
But it's no secret that Matilda admires Williams's work.
"She's starting to understand more and more. She knows a lot about Glinda the Good Witch, a lot about who that is, what that was," the actress shared recently.

"She would go up to people in the park and say, 'My mommy is Glinda the Good Witch in Oz. There's two bad ones and only one good one and that's my mom.'"
Matilda even wants to be Glinda for Halloween this year. We can't wait!
— Shanelle Rein-Olowokere