Majandra Delfino: Why I Pierced My Daughter's Ears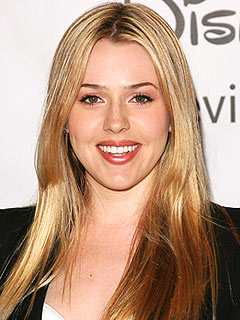 Jesse Grant/WireImage
All her life, Majandra Delfino has wanted people to know she's a proud Latina — but it hasn't always worked out that way.
"I'm so white and nobody knows I'm Latin — it drives me crazy," the Venezuelan actress, 32, tells PEOPLE, adding that her last name tips some people off to her background.
"When people see me, they don't think I'm Latin, but then they hear the name and they're like, 'Oh, where's your name from?'" the Friends with Better Lives star says. "And then it starts the conversation."
Now mom to 16-month-old Cecilia, Delfino wants people to know her daughter is Latina, too, so she did what a lot of moms do — she got her baby girl's ears pierced.
"Her name is Cecilia Walton and she's totally my coloring so she looks totally like a white girl, and it's kind of a bummer," Delfino jokes.

"When she was born and I [realized] what the situation was going to be — that she could very well go through life without anyone knowing — I went and got her ears pierced," she adds with a laugh.
Delfino and her husband, actor David Walton, thought that after they pierced her ears, everyone would know that Cecilia was Latin. But it didn't quite work out that way. "They just think we're crazy white people who pierced our child's ears," she says.
According to the expectant actress — she's due in December with the couple's second child — there were also some people who judged her for her decision. "They have these negative connotations with it. If you don't know that there are many cultures that pierce ears — including French — I hate to say it, but the truth is you're not very culturally aware," Delfino explains.
"It drives me crazy because those very people will make these very snap judgments about it. [I think to myself], 'You guys cut your baby's penis skin.' And that's fine … I let you do your thing, let me do my thing — this is my culture. It's such a hot topic."
Although people may have a hard time believing her daughter is Latina, Cecilia is already being raised with Latin traditions.
"We speak to her in Spanish all day, we have books in Spanish — we definitely have the Latin thing going and the foods she eats," Delfino, who stars in the upcoming CBS sitcom Friends with Better Lives, says. "But as far as the world, when she goes out into the world — people perceiving what her nationality is — it's been such a challenge."
— Lee Hernandez