Edyta Sliwinska: It's 'Weird' (But Nice!) to Put on Pregnancy Pounds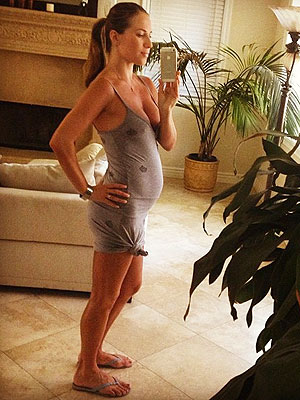 Courtesy Edyta Sliwinska
Dancing always put a damper on starting a family, but now Edyta Sliwinska is ready to shine in her greatest performance to date: motherhood.
Expecting a baby boy in January with "the greatest guy on earth," husband Alec Mazo, the former Dancing with the Stars pro says the couple's latest steps have been completely choreographed.
"This was absolutely planned. We always wanted to start a family and it never seemed to be the right time with our careers," Sliwinska, 32, tells PEOPLE.
"It's difficult for a dancer because deciding to have a baby means taking yourself out of the game for awhile."
She adds, "I come from a big family and I always wanted to have kids. It feels like the right time now to make this change in life."

But while everything seems to have fallen in place, the mom-to-be admits the effects of pregnancy — mainly the extra pounds — have taken some getting used to.
"It's weird to be a little heavier, but it's good because I need to gain weight for the baby because he needs to grow," she explains. "It's fun to let go and not worry for once in your life how much you weigh and being in perfect shape."
Now into her second trimester, Sliwinska is taking advantage of "the best time of the pregnancy" to continue exercising. "I try to do something active every day. I'm putting in an hour a day of physical activity," she says. "I do a lot of cardio because it helps me with my energy. I'm eating really healthy and I'm feeling great."
Fortunately, Sliwinska isn't alone in her journey into motherhood: she has found a pregnancy pal in Dancing with the Stars pro Anna Trebunskaya, who recently announced she is also expecting her first child.
"We have been talking and comparing our bellies. I think she is due about the same time as me. It's great to have somebody to share the experience with, particularly another dancer because we are going through the same thing. [We both understand] how difficult it is for a dancer to take time off to be a mom," she says.
Once their babies arrive, the new mamas are "definitely going to keep in touch and … end up having some play dates together. It's nice that we are starting our families at the same time."
— Anya Leon with reporting by Monica Rizzo