Soleil Moon Frye Is 'Terrible' at Preparing for Third Child
At this point, pregnancy might be old hat, but actress Soleil Moon Frye admits that actually preparing for baby number three is another story.
"I'm terrible!" the actress, 37, tells PEOPLE at the celebration for her entertaining book, Let's Get This Party Started, held Saturday in Beverly Hills. "The first couple of times I was so prepared. Now I'm like, 'Nursery? What nursery? The baby can sleep in our room, right?' I've got to get clothes … We've got a million names — I need to get on it."
Frye, due in mid-February, is "already feeling nine months pregnant and I'm only five and a half! With the third, my body has immediately gone back to where it was," she tells PEOPLE. Daughters Poet, 8 and Jagger, 5½, are eagerly awaiting the baby's arrival as well. "Both of them are excited, but I think Jagger's excited to not be the youngest anymore. She's kissing the belly every second!"
Techs have yet to 100 percent confirm the baby's sex, so Frye is keeping mum for now ("we'll let you know!"), but one thing is for certain: Growing up in her and husband Jason Goldberg's family means a lot of crafting — and a lot of creativity.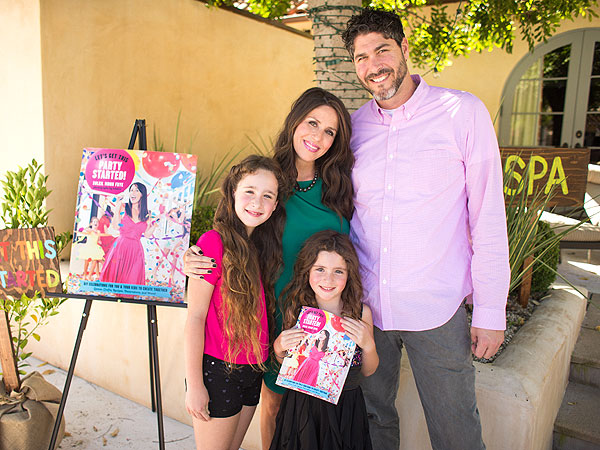 Meeno

In Let's Get This Party Started — out Oct. 15 — Frye delivers dozens of tips and ideas on how to throw affordable, fun and easy parties for kids, while encouraging their participation at the same time.
"My kids love coming up with ideas for themes, whether it's 80s, safari or rainbow," the author shares. "And there are so many things you can do with things that are just sitting in your house! Toilet paper rolls can become binoculars, paper towel rolls can be spyglasses. It's fun involving the kids."
— Aili Nahas