Anna Trebunskaya: Why My Baby Will Have Russian and American Names
Dancing with the Stars' Anna Trebunskaya may be off the show this season because of her burgeoning belly, but that won't stop her from dancing for a good cause.
In honor of Breast Cancer Awareness month and a cause that's close to her heart — Trebunskaya lost a very good friend to breast cancer six years ago — the 32-year-old danced with breast cancer survivors and patients from the Torrance Memorial Medical Center on Friday.
"I think dancing is a great way to have fun, let loose and forget about your problems or sicknesses. Sometimes that's all it takes — an hour of positive energy, having fun, music and socializing with friends," the mom-to-be told PEOPLE at her Hermosa Beach dance studio for the Bust A Move event.
Along with supporting a good cause, Trebunskaya's been keeping plenty busy getting ready for her bundle of joy.
"I'm so excited about learning all of this baby stuff and just acquiring the gear. Right now we're in the process of doing research and acquiring what I will need," she says. "I get so overwhelmed with all of the information and with all the variety of things. Luckily, I have a few friends who just had kids and they are able to give me suggestions."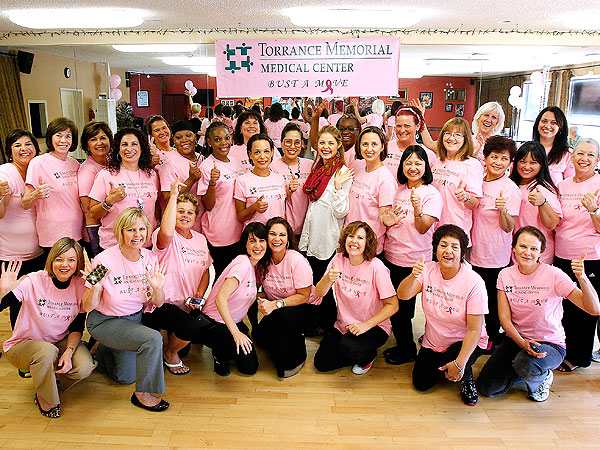 Christina House

Trebunskaya — who is now five months along with her first child — admits the pregnancy was a surprise.
"It was not planned. It was kind of spontaneous — like everything in life. Everything happens for a reason and when that happened I was like, 'This actually is great. This is perfect. I'm ready,'" she shares. "For the longest time I wasn't ready, but once the decision was made, I was totally going for it."
The Dancing with the Stars pro says although she has maintained a balanced diet throughout her pregnancy, she has also been totally indulging in sweets.
"I really loved pickles and olives during my first trimester. Now I switched to more desserts. My go-to dessert is coconut ice cream vanilla flavor," Trebunskaya says.
As for the name? "I would love to have a Russian first name and an American-European middle name or vice-versa. This baby is going to be surrounded by my Russian culture, but I want my child to have an option," she explains. "The baby can have a conventional name that is more appropriate in America and have a full-on Russian name."
The expectant dancer might have an idea for her baby's moniker, but for now, she is keeping the sex a surprise — even from herself. "I haven't made a decision if I want to know yet, but I could find out at this point," says Trebunskaya. "It's a bit of a pain for my friends and my family, but I'm like, 'No, let me get the baby gear first.'"
— Mariah Haas