Review: UppaBaby Mesa Infant Car Seat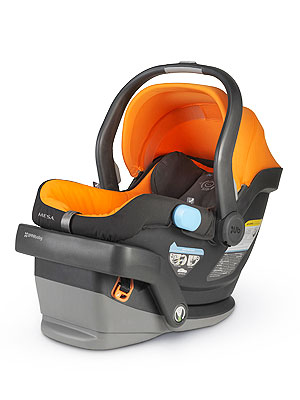 Courtesy UppaBaby
Before I had a baby, tooling around New York City without a car was no big deal. With no shortage of subways, buses and sidewalks, there's always an easy way to get from point A to point B.
But add a brand new, 7-pound passenger into the mix and things suddenly get a lot more complicated.
From the moment we left the hospital, I needed to get my daughter home, to the pediatrician, and to my doctor's office in taxi cabs — not an easy task for a new mom.
Our little girl took her very first car ride home in the Uppababy Mesa ($280), the popular stroller company's first infant car seat, and she's been riding in it ever since.
Without a car of my own, I haven't had use for the base yet, but the Mesa is very easy to install in a cab or a friend's car using just the seatbelt, as those of us city dwellers are often forced to do.

As for installing the actual baby into the seat itself, that's just as simple. When I was pregnant I had no idea just how much I'd value the little pockets on the sides where you can stick the buckles while getting your squirmy little one situated properly in the seat.
It's extras like these — including the luxe material, larger than average sun canopy, a no-rethread harness, fun colors and stylish design — that you really appreciate while hauling an infant car seat around.
All in all, the Mesa really is new parent-proof. Its easy-to-follow instructions made me feel like I wasn't going to screw things up (a feeling first time moms know all too well). More importantly, I feel confident that my little one is safe in her car seat.
According to UppaBaby, Mesa exceeds all of the government safety standards, not to mention the fact that it feels exceptionally solid and secure. It is a bit heavier than other infant car seats (the seat itself weighs in at 11.3 lbs, while other brands weigh in a pound or two lighter), but for me, the benefits outweighed the extra bulk.
It's compatible with Uppababy Vista and Cruz strollers (it comes with adaptors for older models) and it's suitable for babies 4-35 lbs and up to 32″ in height, so it will last for a little while.
— Rennie Dyball