Jenna Bush Hager: How My Dad Won over Mila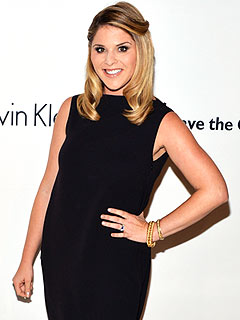 Andrew H. Walker/Getty
Jenna Bush Hager's little girl Mila is a happy baby and some credit for that is due to her grandfather, Former President George W. Bush's, head of hair. Yes, his hair.
"It's kind of appealing for a baby to see this white mound of hair," Hager, 31, told PEOPLE at the Calvin Klein Save the Children Benefit Gala in N.Y.C. on Tuesday. "It's not something she's used to seeing."
On her first day back from maternity leave — Hager and her husband Henry Hager welcomed Mila in April — the Today correspondent shared an adorable video of her father making the 5-month-old giggle for the first time.
"He just did what all of us do," shares the new mom. But that special moment was key in the pair's relationship. "She was brilliant because once she laughed at him, there was this instant connection," Hager adds.

As for what the first grandbaby will call her grandparents, "I think it's kind of going to be organic, whatever she ends up calling him."
The front-runner for the former President is "Jefe! Which means boss in Spanish," says Hager. And for the former First Lady? "She's not a 'Grandma,' but she's also not like a 'Mimi' or a 'Nini.' We'll just have to see how it goes."
— Ana Calderone