Michelle Stafford's Blog: How I Became a Mom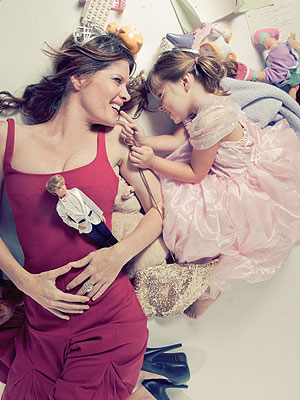 DuffImages.com
Please welcome Michelle Stafford to our celebrity bloggers series.
The two-time Emmy Award-winning actress is best known as Phyllis on The Young and the Restless, a role she played for 15 years.
Now mom to daughter Natalia Scout Lee, 3½, Stafford blogs on everything from body and style to decor and men on her "Doing It as a Single Chick" website.
She is currently the co-creator, co-writer and star of The Stafford Project, a web series that debuted in August. As a tongue-in-cheek depiction of Stafford's life, the series has been called "terrific and audacious" by TV Guide.
The show can be viewed on her website and on YouTube. Additionally, Stafford, 48, can be found on Facebook, Twitter and Instagram.
Ya know, I've sat down a few times to write this blog, but being a single parent … I've been interrupted. "Mommy, I have to go pee pees" or "Mommy, play with me in my room!" or "Can you make me a hot dog, Mommy?" And actually, at this very moment, I am juggling between playing in the pretend kitchen with my daughter and writing this for you.
A little over six years ago I decided to adopt a child. It didn't go so smoothly for me, so I then decided to just do it myself. I mean how hard could it be to get pregnant? Three IVF attempts and three surgeries later, my body was spent. I was exhausted. And by that point, my personality sucked.
Finally, after what I call a "three and a half year journey through hell," I welcomed my amazing, healthy, biological daughter into the world via surrogate! How lucky was I that she was beautiful, calm and healthy? But unbeknownst to me, the real work was about to begin.
I had no idea how challenging being a single parent would be. A child was something I had wanted so desperately for so long. (Just an aside here, but I really missed the boat on those "How to trap a man by getting pregnant" classes. Where was I when those were being taught? Of course I say that in jest, because we all know that no woman really does that, right? I digress…)
I was single and 40 and wanted to be a mother. Why did I have to wait? I knew I would be a good parent, I wanted to be responsible for another person, I wanted to make a real difference in someone's life, and I wanted to have that "special love" for a child that I had always heard parents talk about.
I'll be honest: It's challenging doing it alone. Honestly, the first year practically all I remember is my distain for carrying that car seat around! It would have been nice to have a man to do that, but what the hell, my left arm is really toned now.
I would work on my show for very long hours during the day and then come home to my daughter. Was up most of the night just to have to wake up again at 5 a.m. to do it all over. Honestly though, it was bliss. It's still bliss. The challenges are even bliss. I had wanted to be a mother for so long, but was told by many that it would never happen. Any challenge I go through as a single parent is nothing compared to the hell it took to get here.
My daughter is my best friend. My buddy. We are a team! It's very special being a single parent. There are many out there, and as single parents, we have all the responsibility. We get all the tears, but also all the hugs! I have nothing but respect for all of those who are parenting alone. You are actually phenomenal humans and should be acknowledged as such. So, I'm giving you a shout-out here! So — even if you're a guy — keep on "doing it as a single chick"!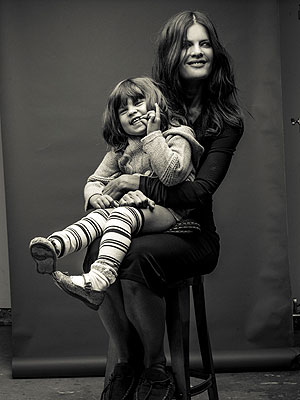 Ray Kachatorian
— Michelle Stafford