Jamie-Lynn Sigler: I Wasn't Scared of Childbirth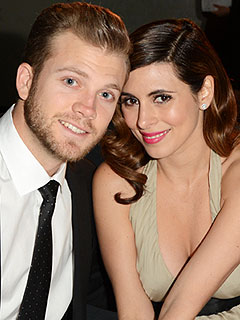 Jason Merritt/Getty
If it takes a village to raise a child, Jamie-Lynn Sigler is all about turning to the wise ones for advice.
"I watched my best friend give birth a few months ago. I was in there, right behind the doctor," the new mom, 32, tells WebMD magazine. "I was really panicking about all the things I needed to buy for the baby, and she was like, 'You don't need this, you do need this, try this and see if he likes it.' That helped ease my fears."
Despite her avoidance of typical tomes — she says, "Our grandparents did it without all these books, and they came out okay" — Sigler still took her time to research childbirth and prepare a birth plan.
Her doula, who was at Sigler's side when she gave birth to her son, came into the actress's life prior to her pregnancy and happened to be Hollywood-sent — literally!

"I did a show with NBC called Hollywood Game Night, where six celebrities are teamed with regular people to play games like charades," she explains. "This girl on my team, we really hit it off, and she told me she's a massage therapist and doula. We stayed in touch. She lives in Tennessee and she flew in for the birth."
The support and presence of her doula were a big part in Sigler's expectations of pain during her delivery.
"Birth is really judgy and people get really opinionated, and everyone's entitled to the experience they want," she explains. "My doula told me, 'Let's prepare in our minds for the level of pain we're expecting and double that and see what we would want to do if that happens.'"
Sigler adds, "But I wasn't scared of childbirth, I think because of my doula."
Now that she and her fiancé Cutter Dykstra are the proud parents of son Beau Kyle, Sigler has switched from seeking out pregnancy tips to parenting advice — but is still determined to find her own way.
"I'm inspired by many of the different ways people parent and discipline. A girlfriend of mine gave me The Happiest Baby on the Block, and I want to watch that," she says. "But I don't want to be rigid and hold myself to expectations of how things should go. I want to see what he's like and who he is, and he and my fiancé and I will figure it out."
When it comes to baby boy's cries, Sigler already has a plan in place. "I know a baby's main way of communication is crying, so I have to not get frustrated about it," the new mom explains. "A friend told me to get zen about it when you hear that sound: It's him talking."
After nine months of skipping sushi and champagne, Sigler is ready to welcome back some of her favorite foods into her life. However, what she's most looking forward to is introducing baby Beau to his extended — and eclectic — family.
"[Cutter's] family is from the South. My mom is Cuban and my dad's a born-and-raised Brooklyn Jew," she shares. "I'm really excited to bring him to meet all these different relatives and expose him to these different cultures and places in the country."
— Anya Leon