Alana de la Garza: 'Our Family Is Complete'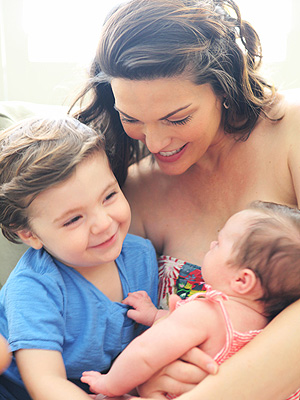 Michael Roberts
Alana de la Garza is still glowing — and she's not even pregnant anymore!
It's been almost three months since the former Law & Order star and her husband Michael Roberts welcomed daughter Liv Elena into their world — and the family couldn't be happier.
"Not to sound like a total mush, but even at 3 a.m., with breast milk all over my shirt, I just stare at her in awe and thank God that I have two healthy beautiful babies," the 37-year-old actress tells PEOPLE, adding that both Roberts and their son Kieran , who turns 3 this weekend, are equally smitten.
"I love seeing my son with a look of adoration at his new 'baby sista.' I love seeing my husband cuddle our children, and I love looking at my kids and feeling like our family is complete," she says.
Now that she's welcomed her second child, de la Garza feels a little like Wonder Woman. "A girlfriend of mine once said, 'Now that I'm a mom, I am a superhero.' I remember just laughing and going on with our conversation," de la Garza explains. "She was right! She is a superhero and so are all of the other parents out there."
Especially, de la Garza says, the ones who do it all on their own. "I have a tremendous amount of admiration for the single parents out there," she says.
Luckily, the mom-of-two has tons of help, which made recovering from a "tough" c-section, easier. "My husband got up in the morning with Kieran and took over bedtime and bath and my mom was the only reason we were not naked, starving and had trash piled to our front door," she says.
"I am among the privileged that have a support system that let me take care of my little ones and myself," she adds.
Calling motherhood "the most challenging role I'll ever have," de la Garza says it's also the most important. "In life, the most important thing to me is family. Everything else comes and goes, but your family stays — changing and evolving — but they are permanent," she shares.
— Lee Hernandez