Mini Must-Have: Harper Beckham's Metallic Sandals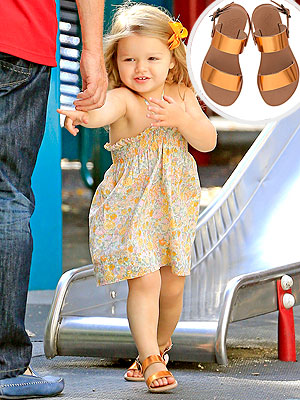 Splash News Online; Inset: Courtesy Ancient Greek Sandals
We have to admit Harper Beckham is fast becoming one of our fave mini trendsetters.
On Sept. 6, we spotted the fresh-faced 2-year-old in a sweet floral frock and metallic sandals while hanging at a N.Y.C. park with her grandpa Anthony Adams and a nanny.
We weren't able to find out who makes her pretty dress, but after a little digging we discovered her chic shoes are the Little Clio in metal orange ($125) by Ancient Greek Sandals for Caramel Baby & Child.
Handcrafted out of natural leather, the company's sandals are based on ancient designs that were recently discovered. Apparently, they're also really comfy — perfect for active little girls like Harper.

Just two days before, the stylish toddler wore the Athens-based brand's Little Adonis style in burgundy ($125) during the run through of her mother Victoria's spring 2014 fashion show.