Anna Faris Credits 'Huge' Son Jack for Her Toned Arms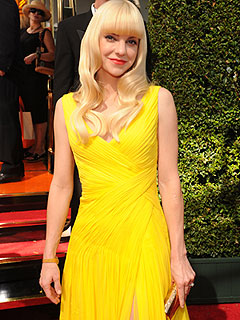 Frank Miclotta/Invision for Academy of Television
What's the secret to Anna Faris's super-buff arms?
Baby lifts!
"My arms have never been toned before and now they are because he's HUGE," the Mom star, 36, told PEOPLE Sunday on the Emmys red carpet, referring to son Jack, 13 months.
"He's got a huge head, a huge body. He's like 60 pounds," she said in jest, but seriously added that the tot, who was born premature, is "so active."
Jack might be gaining weight, but his father, actor Chris Pratt is shedding it — and not exactly to Faris's liking.

Pratt slimmed down for his starring role in Marvel's Guardians of the Galaxy, and in July Tweeted a photo of himself and his impressive washboard abs. Yet despite his yummy appearance, Faris, his wife of four years, is clearly less than impressed.
"It's SO annoying," she declares. "I can't wait for him to come back from shooting. I do [miss his old size] a little bit."
But she seems confident that her hubby's six-pack won't last forever.
"We both love to eat and drink, so I'm sure [the weight won't stay off]. You have to live life sometimes, you know?"
— Kathy Ehrich Dowd, with reporting by Dahvi Shira and Jennifer Garcia