Pink: How Can Moms Not Enjoy Motherhood?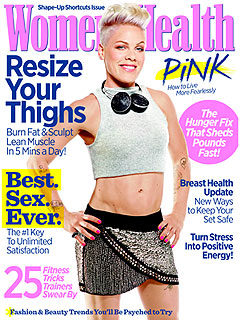 Courtesy Women's Health
To say that Pink is madly in love with her daughter, Willow Sage, is putting it mildly.
"I have the most beautiful baby that was ever born. Ever. So I'm sorry about all the rest of you," she jokes in a video promoting her cover story in the October issue of Women's Health.
The singer, who's in the middle of her Truth About Love tour, soaks up every minute she can with her 2-year-old, who's accompanying her mom on her travels around the world.
"My favorite thing to do when I have downtime is sleep and play with my baby. And sleep alongside my baby," she admits.
But there's one thing that worries Pink, 33, about her daughter — her taste in music.

"Willow wants to hear 'Gangnam Style' — maybe that's why I've shut down [listening to a lot of music]," she says with a laugh.
While being married to motocross champ Carey Hart has given the singer her share of anxious moments as he risks his life in his everyday job, she tells the magazine that she wasn't prepared for the worries that come along with motherhood.
"A mom fear is a different kind of fear," she says. "It's all encompassing. You just want to make sure no matter what happens in the world, everything is taken care of."
But it sounds like she has it all under control.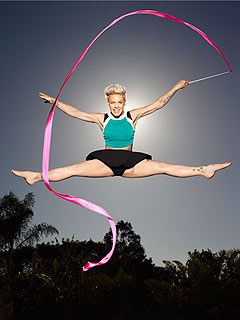 Courtesy Women's Health
"What surprises me the most about being a mom is that there were ever moms that didn't enjoy it," she admits. "I know it's a lot of work and it's exhausting and it's a lot of pressure but what a blessing and a gift."
Becoming a mom meant toning down her rock 'n' roll lifestyle but Pink, who gave up smoking when she became pregnant with Willow, still has a few vices left.
"I drink really good wine and high-caliber whiskey. I probably laugh too loud in restaurants," she says.
And while she works out five times a week to stay in shape for her physically demanding stage shows, Pink refuses to give up cheesecake, bread and pasta.
"I would like to be more disciplined but I just really enjoy food," she says. "I'd love to be 10 pounds thinner, but it's not in the cards for me. And I'm totally okay with that."

— K.C. Blumm