Gail Simmons: Flats Are In My Future!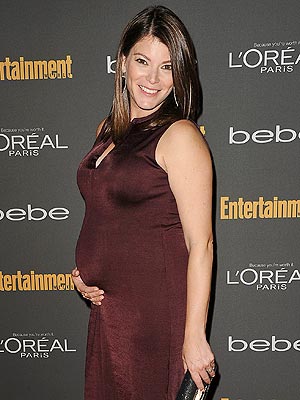 Jason LaVeris/FilmMagic
Pregnant Gail Simmons isn't slowing down just yet.
The Top Chef judge, 37 — whose Emmy-nominated reality competition show premieres its eleventh season on Oct. 2 — just finished a summer of filming in New Orleans, and is making her way through the hustle and bustle of awards parties — all while still wearing heels at six months along in her pregnancy.
"As a first pregnancy, I really can't complain," Simmons told PEOPLE on Friday at Entertainment Weekly's Pre-Emmy Party at Fig & Olive in West Hollywood.
"It's been amazing. I feel great and I have lots of energy. I still have a few months left. And then the actual parenting begins! The actual delivery of the child. But so far, it's been pretty wonderful."

The TV personality — who looked svelte in a dark colored Alexander Wang dress that showed off her growing baby bump — credits the designer for helping her look so good while expecting.
"I don't know if he knows how great his clothes are for pregnant women," she says. "I discovered he makes an entire line that is great [for expecting moms]. I don't think he meant it that way, but I bought five dresses of his in the last couple of weeks. They're amazing and so comfortable and nice looking."
Adds Simmons: "What I'm wearing is actually super stretchy and really comfortable, so that's a good thing. And I told my husband I'm going to get through this weekend in heels, and then I'm like, flats and an elastic waistband for the rest of the pregnancy."
Staying fit hasn't been a struggle for Simmons, who admits she's "pretty active" and has been "trying to maintain my routine. I've been traveling a lot, so I've been trying to walk a lot and do yoga."
And her figure hasn't hurt from her totally normal cravings.
"I had some little cravings in the first trimester, but they were good," she shares. "They were like popsicles. I wanted peanut butter all the time. But now my appetite's really been great. I want to eat healthy and feel good."
— Dahvi Shira