Stephen Moyer: It Was 'Touch and Go' Following Twins' Birth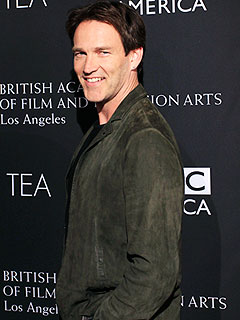 David McNew/Reuters/Landov

Stephen Moyer's wife and True Blood costar Anna Paquin may be eager to see their babies reach new milestones faster and faster, but he's more than willing to take it slow.
The fraternal twins, son Charlie and daughter Poppy, just celebrated their first birthday last month and, following some struggles after being born prematurely, Moyer's savoring every moment.
"I think Anna's very excited about them walking and I'm like, 'Just wait — our lives are over once that happens!'" Moyer, 43, tells PEOPLE at Friday's Emmy Performers Nominee Reception.
However, the father-of-four is quick to say he's seriously thrilled to see them thrive after a difficult arrival.
"It's just all so amazing — they had a tough start," he says. "They were early and it was touch and go there for a while and so anything is amazing," he shares. "Spitting up the first solid food is just fantastic!"
Moyer says he was relieved when the twins turned the corner and the couple could stop worrying about them.
"It does consume your every thought, and sometimes you cope with it really well and sometimes you don't," he reveals. "Sometimes you're desperately terrified and other [times] you're so tired you can't think of anything, so you just get through it like everybody does."
Meanwhile, after six seasons of cliffhangers, the star couple are readying for closure on the upcoming final season of True Blood.
"[It's] given the writers and the show runners an opportunity to finish, and we've never done that before: we've never finished and then started again," he admits. "I don't know what the plans are, but I know that by having that end in sight they can work towards something."
Moyer says he and Paquin plan to produce projects together, and hopes they'll share scenes together as actors again as well.
"We've been offered a few things that would've been fun, but we decided not to do anything like that until True Blood was over. We didn't want to bombard the audience with us, you know, naked or otherwise."
— Scott Huver