Kourtney Kardashian: Penelope and North Are Already Becoming Besties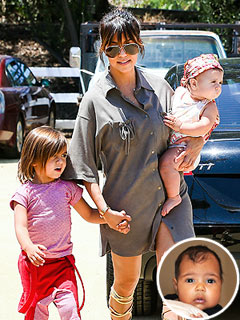 AKM-GSI
Not all of the Kardashian clan is currently mired in drama: The Kardashian cousins are already becoming besties!
"Whenever [Penelope] sees [North] — the second she walks into the room, Penelope gets so excited," Kourtney Kardashian tells PEOPLE at the Los Angeles premiere of Thomas & Friends: King of the Railway on Sunday. "We never really had cousins that were close in age."
But while Penelope, 14 months, is "just in awe" of Kim Kardashian's daughter with Kanye West, Kourtney's 3½-year-old son Mason is still adjusting.
"He gets a little jealous because he and Kim were so close. He doesn't understand because he's not the big center of attention," Kourtney said. "I don't think [Kim] knows what to do; she's just like, 'You don't like me anymore?' She feels like he … is getting older and changing, and I think she gets confused and doesn't know how to handle it.  He's like, 'Why don't you like me anymore?' 'cause he sees her with the baby."
In hopes of alleviating the situation, Kourtney confesses she's been lathering on the attention for her oldest child.
"I give him so much attention, and he gets so much attention from everyone else that I'm like I don't even know," she said.
— Raha Lewis and Wade Rouse