Great Ideas! 6 Ways to Safely Introduce Your Baby to Your Pet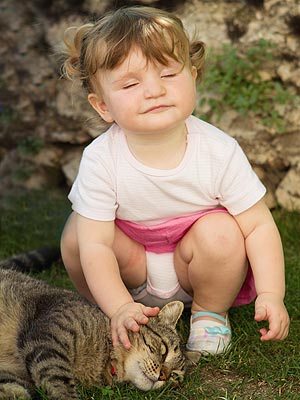 Getty
Having a new child is a big transition for the whole family — including your pets.
That's why it's important to prepare your furry friends for the arrival of your little one to avoid an overwhelming and confusing time for everyone
Renowned baby care expert and author Helen Moon — whose celeb clients include Sir Elton John, Elizabeth Berkley Lauren and more — suggests coming up with a plan while you're pregnant. It really helps make the baby-to-pet introduction a smooth one.
Don't know where to start? She's also offered up a few helpful tips. Check them out below:

Establish ground rules. The first and most important thing to discuss is whether you want your pet in the baby's room or not. If you decide yes, let your pets see you getting the room ready so they know they're welcome.
If not, make sure to communicate to them that it's a 'no go' area even before your baby arrives so it will be less of an issue after.
Gauge your pet's personality. If you have a very active dog who jumps up at you, or just jumps around in excitement, then you may want to consider either training your dog not to jump, or making sure your dog is more calm before a baby is brought into the house.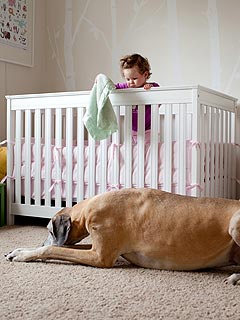 Getty
If you have a very social cat that likes to be in your lap or constantly petted, try to stay away from them at first when you're having mommy and me time. The last thing you want is for them to jump on your lap while you're holding the baby. You also don't want to constantly push your cat away, as this could make them very jealous.
Use smell. I find the best way to make your pet familiar with a new baby is to take a blanket your baby has slept with or been swaddled in while in the hospital, and give it to your pet to sniff and inspect before your baby comes home. This way your baby's scent won't be so strange to your pet.
Stay calm during the first meet-and-greet. When you bring you baby home for the first time, make sure your pet is greeted first, in the normal way. This is best for dad to do before you bring your baby inside. Depending on how rambunctious your dog is, it might be best to put your dog on a leash, or behind a gate before your bring your baby inside.
When you bring your baby inside, if your dog is calm then allow the dog to smell your baby, but don't let your dog get too close. You want to start the introduction gradually. It's very important to stay calm at all times because they can sense your nervousness.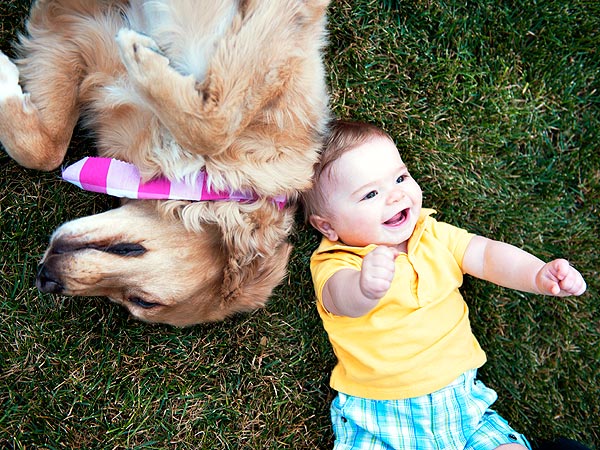 Getty
Never leave your baby alone with your pet. They can become agitated or scared of the noises a baby makes and hurt them unintentionally. Also keep your baby off the floor when your pet is in the room. They can be clumsy, not realizing how little the baby is.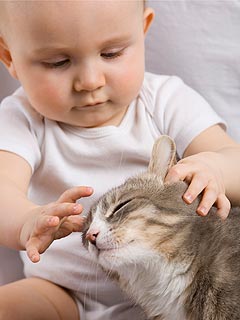 Getty
Stay positive. Always praise your dog for good behavior around the baby. It's important that the dog views the baby as a positive thing and not a negative. NEVER scold or reprimand your dog when the baby is around.
If your dog misbehaves, then take them immediately into another room away from the baby. In general, your pets will still need plenty of attention, so you should make time for them as much as possible.