Michael Bublé: My Son's Birth Wasn't 'Life Changing' – Until the Next Day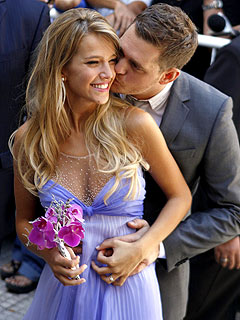 Natacha Pisarenko/AP
Like any other father, Michael Bublé was looking forward to seeing his son for the first time. But, despite the build up of emotions, when Noah arrived on Aug. 27, the new dad admits it wasn't exactly love at first sight.
"I didn't have that overwhelming feeling of love. I'm being honest with you," the singer, 38, said during a Wednesday appearance on The Social.
"I'd heard all of these stories about how this moment was life-changing, but it wasn't like that for me. I was nervous for my wife, and I was happy that he was healthy … but, that day, it was like meeting a stranger."
A day later, while spending time with his baby boy, Bublé says the reality of fatherhood finally hit him. "That next night, it really clicked," he shares. "I was looking at him and all of a sudden, I got it."

Since that moment, Bublé has played the part of doting daddy perfectly, learning how to soothe his son with his singing skills.
"I sing to him all day and all night. When he's crying with somebody else and I hold him and I sing to him, he just stops. It's really cool," the proud papa says. "The songs I'm singing are not my hits — that's for sure. My number one go-to right now is 'Down by the Bay.'"
Among his other newly acquired skills? "I've become a master at changing poopy diapers. And I can swaddle — I enjoy being swaddled myself!" he jokes.
Now head over heels for his first child with wife Luisana Lopilato, Bublé won't be trying to convey the feelings of fatherhood anytime soon. "It's the greatest thing that could ever happen," he says. "You can't explain it until it happens — it's like telling somebody what water feels like before they've ever swum in it."
And while he's received a fair share of advice, Bublé has adopted a live and learn approach to parenting. "Every single person in the whole world tells you how to do it a different way," he explains.
"At first it confuses you, then it drives you nuts, and then you realize that there is no right way. You just do the best you can and hope it turns out okay," Bublé adds.
— Anya Leon