Stephen Moyer: I'm 'Pretty Good' at Changing Diapers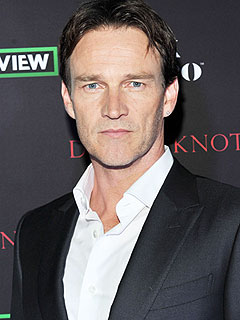 Sonia Recchia/Wireimage
One year after True Blood couple Stephen Moyer and Anna Paquin prematurely welcomed twins Charlie and Poppy, the babies are now healthy, happy and starting to show their personalities.
"The twins are amazing," Moyer, 43, told PEOPLE at the premiere of his new drama Devil's Knot at the Toronto International Film Festival on Sunday.
"They are really coming into themselves. They are beautiful," he adds.
The British actor, already dad to son Billy, 13, and daughter Lilac, 11, from previous relationships, is thrilled to raise infants again — even if it means changing dirty diapers.
Despite a decade having passed since he last cared for an infant, the father-of-four — who reveals Charlie and Poppy celebrated their first birthday last week — is still a diaper changing champ. "I was already pretty good," he proudly says about his skills. "I'm like zip, zip, zip and I'm done!"
— Paul Chi