Brian Austin Green on Megan Fox's Pregnancy: 'I Do Whatever She Asks'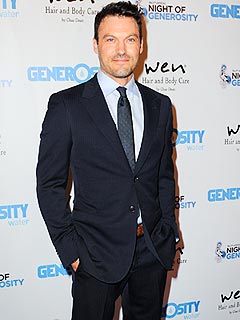 Jordan Strauss/Invision/AP
Brian Austin Green knows the secret to keeping his pregnant wife, Megan Fox, happy — "I just do whatever she asks for and I say 'Yes,' no matter what it may be."
The Transformers star, 27, is expecting the couple's second child together, and Green, 40, admitted that Fox wasn't feeling well enough to accompany him at the 5th Annual Night of Generosity at the Beverly Hills Hotel on Friday.
But despite her no-show, Green told reporters that his wife of three years is "doing great."
"She did great the first time around, but I wouldn't wish the experience on anybody," he said. "I couldn't do it."

The couple, who are already parents to son Noah Shannon, 11 months, are prepping for the new arrival but Green admits he isn't sure how they'll manage juggling a toddler, a new baby and his job on Anger Management.
"We honestly have no idea and we discuss it daily and think, 'How are we going to do this?'" he said. "I think we'll see when it happens. People do it all the time."
But at least Green has an understanding boss in his sitcom's star, Charlie Sheen.
"I couldn't really ask for a better situation than that," Green said. "[Charlie's] one of the nicest guys I've ever met and worked with."
— K.C. Blumm with reporting by Mariah Haas