Kristin Cavallari Really Loves Her Sexy Mommy Heels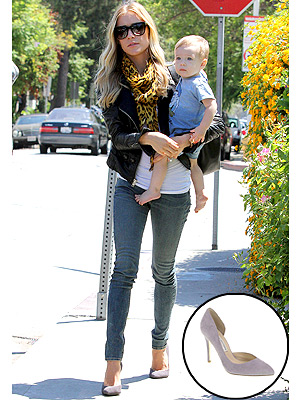 Broadimage; Inset: Courtesy Chinese Laundry
When it comes to her on-the-go mommy style, it looks like Kristin Cavallari is taking cues from mom-of-four Victoria Beckham.
On July 30, we spotted the former reality star cradling her adorable son Camden after enjoying a lunch with friends at Lemonade Restaurant in West Hollywood.
And for a street-chic look, Cavallari paired neutral pumps with a black moto jacket, animal print scarf, white tee and skinny jeans.
Well, it turns out her fashionable footwear is from her Chinese Laundry collection. They're the Copertina suede heels ($130), which come in six fun colors.
Clearly, Cavallari really loves the style. One day later, she wore the black version to the L.A. premiere of Clear History.

"My Copertina heel goes with every outfit so I wear it all the time!" the designer told PEOPLE.