Jenna von Oy's Blog: Embracing the 'Back to School' Spirit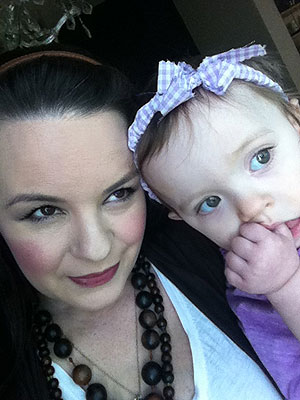 Candid with my cutie – The Cradle Chronicles
Celebrity blogger Jenna von Oy is a new mama!
Best known for her roles as Six on Blossom and Stevie on The Parkers, von Oy is also a musician who has released two albums and is set to publish a book, The Betweeners.
von Oy, 36, wed Brad Bratcher on Oct. 10, 2010, and resides in Nashville with her husband and five dogs.
They welcomed their first child, daughter Gray Audrey, in May 2012. She is now 15 months old.
You can find her on Facebook and Twitter @JennavonOy, as well as posting on her weekly blog, The Cradle Chronicles.
In her latest blog, von Oy writes about the time-honored tradition of going back to school — and Gray's baby steps in that direction.


When I was a child, the phrase "back to school" elicited a mixture of both fear and delight in me. What fantastic summer vacation stories would my friends return with? Would they think I was a total dork because I didn't have any? Would I still (embarrassingly) be the shortest person in my class? Would my new teachers be nice, or would they plot my demise like the principal in Ferris Bueller? Would I be suffering through hours of homework each week, eclipsing my ability to watch Melrose Place? Would any boys like me this year? (And would I know it, even if they did?) Would I break out in inevitable and mortifying stress-acne before tests? And the biggest question of all … drumroll, please… what should I wear on my first day back to class?!
Mind you, that particular assignment required hours of closet perusal, multiple department store outings, a box of tissue to wipe away any melodramatic tears, and one VERY patient mother. I was convinced the right outfit could earn me a prominent place at the popular kids table. Alternately, the wrong one could indefinitely fortify my position as the last pick in every gym class dodgeball game until the end of time. Heaven forbid! I had such a preoccupation with what statement my clothes were or weren't making, that I kept journals of my favorite get-ups. Sometimes I was even ambitious enough to take Polaroids, for better documentation. God bless the neurotic and overzealous younger me! I was enthralled with being fashion-forward, while simultaneously stuck in the mentality that jumping on the small-town, conservative bandwagon was equivalent to fitting in.
I was certain that expressing myself through my unique sense of style would directly, not to mention negatively, affect my social status. That is, of course, if I'd actually had a bona fide social status to begin with. Which I didn't. And, despite wearing exactly the same conventional (aka banal and indistinguishable) threads everyone else was donning, I still roamed the middle school corridors feeling as if I stuck out like a sore thumb. Meanwhile, my artistic spirit was dissolving into that sterile, over-lit, hall monitor-supervised background until it was non-existent. It was experiencing a slow, agonizing death by self-imposed conformity. Shallow, perhaps, but I didn't have bills and a mortgage to fret over in those days, so I think I'll let that slide.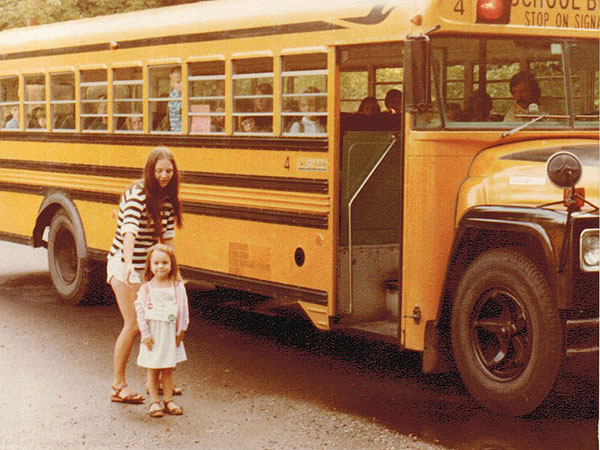 First day of kindergarten – 1983 – The Cradle Chronicles
Although I've been out of school for several decades (ouch, that hurts to say!), the end of summer still gives way to that "back to school" thrill. It reminds me of the good old days: scouring the preparatory summer reading list, stocking up on every protractor-calculator-ruler-related gadget on the market, and searching for the ideal caddy to house my ever-growing eraser collection. I recall the arduous hunt for a (nearly-impossible-to-find) Trapper Keeper that wasn't plastered with photos of New Kids On The Block; I may have been the only adolescent girl in America who couldn't fathom wanting to make out with one of those guys. And then there was the daunting task of locating a backpack that articulated just the right thing about me: "I'm cool and confident enough for the 'It Crowd,' just awkward enough to be endorsed by all of my other peers, and serious enough to be respected by teachers everywhere. Pretty please accept me, people!"
I realize my daughter is only 15 months old, so the term "back to school" doesn't carry quite as much weight at this point and time. That said, prepping for her fall daycare program has brought a flood of memories to the surface. It takes me back to passing notes in Social Studies, giggling uncontrollably during study hall, skimming Cliff's Notes for English Lit, and boycotting frog dissection in biology. (Which, in retrospect, was an early demonstration of my love for animal rescue.)
I find I miss the sound of lockers slamming. You know the ones I mean — the old slabs of metal stuffed with crumpled papers, hair scrunchies, and half-chewed pen caps, then festooned with magazine clippings of teen heartthrobs such as Luke Perry and Keanu Reeves. (Thankfully, my friends were considerate enough to hide the Joey Lawrence photos when I came around.) I can recall the wild stampede as the morning bell rang and students shuffled off to homeroom, or ditched to the local Dunkin' Donuts.
I recollect my gruesome discovery of stale gum on the underbelly of my desk, and my palpable desperation as I counted down to our daily recess or lunch. The flashbacks are so vivid I can almost feel the chalk on my fingers and taste the coagulated cafeteria Jell-O… Which, on second thought, I could have gone without remembering.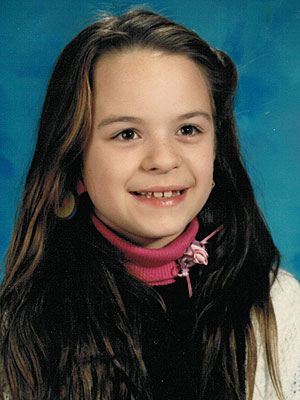 At 11 in my 1988 school photo – The Cradle Chronicles
But back to how this pertains to parenting.
In a sense, Gray has already embarked upon her learning journey, even though she's only attending daycare for two days each week. She doesn't need to write her own name in cursive, or be able to add apples and oranges, in order to be considered a student in my book. At the moment, she just happens to be a student of social skills and learning to eat Cheerios with an Elmo spoon.
Now, if you're anything like me, the concept of "daycare" dredges up some strange visual illustrations. I never went to any sort of preschool or Montessori when I was younger, so my thoughts initially ran amuck. Before enrolling her, I imagined vaguely uncivilized scenes: twenty-something year-old babysitters with little (or no) teaching experience, chasing after hoards of screaming, drooling children, in a padded room where unstructured chaos ensued until work-weary and coffee-dependent parents could find the time to pick them up in between meetings.
Thankfully, this couldn't be further from the truth, at least in Gray's case, and I'm almost ashamed to have assumed such an awful scenario in the first place. Gray's daycare is truly an accredited institution, with highly qualified teachers who are loving and attentive. In other words, it is exactly what school should be. The kids are essentially being treated to well-supervised educational play, meant to motivate them while still respecting age-appropriate boundaries. By that, I mean they aren't forcing them to conduct lab experiments or solve algebraic formulas at age one. It's gentle preparation for their future lessons, both in and out of the classroom, and I'm thoroughly impressed by it.
Not to mention, Gray comes home with some freakin' adorable paintings we can post on our refrigerator! Her school really stresses music and creativity, which couldn't make my husband and I happier. She has fantastic communication opportunities with fellow toddlers, and she is constantly being challenged, which she thrives on. (This is my polite way of saying our daughter is a little social butterfly who craves continual stimulation and entertainment. The apple doesn't fall far from the tree!)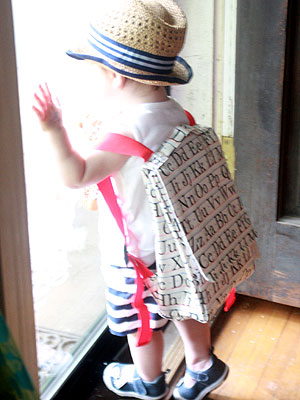 Patiently waiting – The Cradle Chronicles
If I'm being honest, having her at daycare two days a week also allows me to get a little work done. I miss her terribly when she's gone, and that's putting it mildly. I'm like a turtle without its shell. (What the heck am I going to do when she goes off to college, if the separation is this tough already?!) Still, I know it's good for me to have some time to catch up.
Moreover, Gray loves it, so I'm all for encouraging her independence. One day soon, I will be waving goodbye (and openly weeping, I'm sure) as Gray climbs onto the bus for her first day of kindergarten, just as my mother did. I'm sure that's when the real adventure will begin. But I'm in no rush to skip over these simpler days. There will be plenty of time for debate club, prom, yearbook committee, homework, and — God forbid — detention.
For now, I'm content with our slow and steady pace.
Until next time,
— Jenna von Oy
P.S. I love hearing from you, so I'll pose this question: What's the thing you miss most about your former school days?
P.P.S. For more "awesome" back-to-school photos from my younger days, head over to my blog at www.cradlechronicles.com!