Josh Duhamel Refuses to Raise an 'Entitled Little Brat'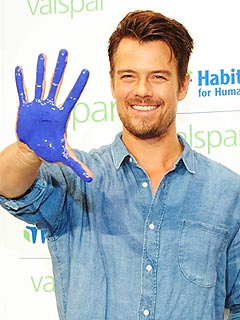 Desiree Navarro/WireImage
If parent-to-be Josh Duhamel's son takes after his dad, he'll be easy on the eyes — but totally hard to deal with.
"I was a little s—," he recalls of his childhood to PEOPLE in New York City, where he teamed up with Habitat for Humanity to launch the Valspar Hearts and Hands for Habitat Campaign.
Jokes aside, "I was really a kid who spent most of the time outside, catching turtles and frogs and stuff like that," says Duhamel, 40, whose wife, Fergie, 38, is in the final weeks of her pregnancy. "That's pretty much all I did as a kid."
But unlike the actor, who came of age in North Dakota, his son will grow up in the spotlight of Hollywood. "It's really important to us that we don't raise an entitled little brat," he says.
"We want to raise a kid who's confident, compassionate, and it's really important that we do that, so it's important that I set a good example for him." (So it's no surprise he's promoting the campaign, which strives to help families in need affected by natural disasters.)
In the meantime, Duhamel is anxiously awaiting — "anxious isn't even the word," he adds — their first child's arrival, even if he'll miss looking at Fergie's baby bump. "She's so damn cute," he says.
And, yes, they've stocked up on baby wipes and diapers. "We're as ready as we can be," he shares. "It's a matter of just getting the baby here now and then realizing that we're not even close to being prepared."
He adds: "The whole idea that I get to be a dad is something I've always dreamt about."
— Alison Schwartz