Jimmy Fallon Reveals Inspiration Behind Winnie's Name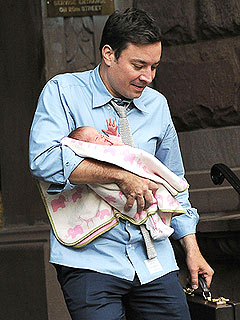 Doug Meszler/Splash News Online
What's in a name? A whole lot if you're Jimmy Fallon.
Fallon says his 3-week-old daughter Winnie Rose was named in part after the lake where he and his wife, Nancy Juvonen Fallon, vacationed together every summer and were engaged: New Hampshire's Lake Winnipesaukee.
"We were talking about different names. You over-think names — you don't want a name that's been done, but then you don't want something so weird people are like, 'What?!' Winnipesaukee's a little long," the Late Night host, 38, joked on TODAY Tuesday. "Also she's a 'win' for us."
He added that the correlation with the character from The Wonder Years isn't so bad either.

"Winnie from The Wonder Years is the coolest girl on TV ever," he said.
The couple welcomed their daughter via surrogate last month after struggling with fertility.
"We tried for a long time — five years. I know people have tried much longer but if anyone out there is trying and losing hope, just hang in there. Try every avenue, try anything you can do. You'll get there. You'll end up with a family. It is the most worth it thing. I'm just so happy right now, I'm freaking out."
Glowing like a proud parent, he added: "I just love her. She's a little angel. She's so cute and so fun. Little girls especially unlock something in your heart."
Visit NBCNews.com for breaking news, world news, and news about the economy
—Sheila Cosgrove Baylis