Vince Vaughn Welcomes Son Vernon Lindsay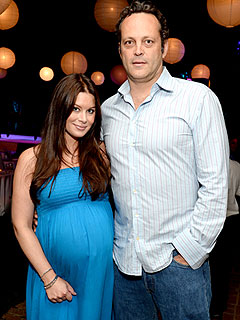 Michael Kovac/Getty
The Delivery Man has delivered!
Vince Vaughn and his wife Kyla welcomed their second child, son Vernon Lindsay Vaughn, on Wednesday, Aug. 7, PEOPLE has learned exclusively.
Named after Vaughn's father, Vernon weighed in at 8 lbs., 4 oz. and measured 21 inches long when he was born at a hospital outside of Los Angeles.
The actor's rep confirms the good news to PEOPLE.
Vaughn, 43, announced in April that he and Kyla, 34, were expecting a little sibling for their 2½-year-old daughter Locklyn Kyla.

Just four days prior to Vernon's arrival, the couple — who married in January 2010 — enjoyed a night out at Tony Bennett's 87th birthday and Exploring the Arts fundraiser.
"The whole family is so excited to welcome this sweet boy into the world," says a friend of the Vaughns. "I am sure Vince will have Vernon out on the ball field in no time!"
Appropriately, Vaughn stars in the upcoming Delivery Man, out on Nov. 22, about a middle-aged man who discovers he has fathered over 530 children throughout the years through sperm donations.
Only 528 kids to go!
— Elizabeth Leonard and Anya Leon