Jenna Dewan-Tatum 'Melts' at the Sight of Channing with Everly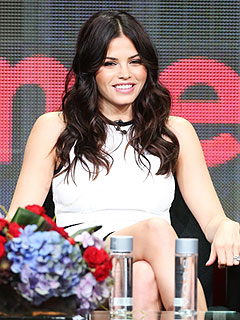 Frederick M. Brown/Getty
Acting again after giving birth to Everly on May 31 has its challenges, but Jenna Dewan-Tatum is finding a way to balance the two important parts of her life.
"I was little worried about getting back to work, having my head be in the right place, leaving her at times," the actress, 32, told PEOPLE at a Television Critics Association event on Friday in Beverly Hills.
"And I still have issues with that, like any new mom [who] goes back to work, but it's been really a lot easier with the amazing women [who] are part of this cast. They're helping me a lot."
The Witches of East End star always has something to look forward to when she gets home.
"She's smiling and giggling," Dewan-Tatum says of her daughter. "Everyone says it's the best, and it is the best! Last week she just started looking at me and recognizing me and smiling, and my whole world melted!"
One of the best parts of the parenting process is having PEOPLE's reigning Sexiest Man Alive by her side.
"[He's] been amazing," the new mom told reporters of hubby Channing Tatum. "He comes and visits me. He's working at the same time right now, but we prepared for that … It's a little crazy in my house but it's good."
Nothing compares to seeing her loves interact.
"You see the thing you love the most with the other thing you love the most, and there's just a natural new awakening of the love you guys share together," Dewan-Tatum says. "Just caring for something that's so small, and being so gentle and tender makes you just melt."
As wonderful as motherhood is, the starlet does wish she could nap from time to time.
"I can tell you what I'd want my power to be right now," she said. "Being a new mom, I would like to be able to sleep. Like this, snap my fingers and sleep, because I'm a little sleep-deprived at the moment!"
— Gabrielle Olya