Baby Boy on the Way for Jason Biggs and Jenny Mollen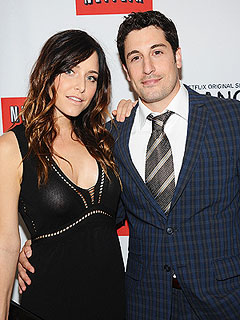 Gary Gershoff/WireImage
Jenny Mollen's growing assets gave it away!
Jason Biggs and his actress wife are expecting their first child, the Orange Is the New Black star revealed during an appearance on E!'s Chelsea Lately, airing Wednesday.
While sharing a photo of Biggs' wife, host Chelsea Handler couldn't help but comment on Mollen's chest size, noting, "Her breasts look really engorged."
Without skipping a beat, the actor happily took the bait. "Her breasts are very big these days. Would you like to know why?" he says. "'Cause I put a baby in her belly!"
Mollen confirmed there's a baby on the way with a snapshot of her sonogram on Instagram. "My new assistant is so f—— lazy!" she writes.

On Thursday, the couple shared that they're expecting a boy. "Finally there's a virgin penis inside me," Mollen, 34, writes. "It's a boy!" "My wife has someone else's dick inside of her," Biggs, 35, adds.
Biggs and Mollen tied the knot in April 2008 after meeting on the set of My Best Friend's Girl.

— Anya Leon