Maria Bello: Jackson Is 'Discovering Girls'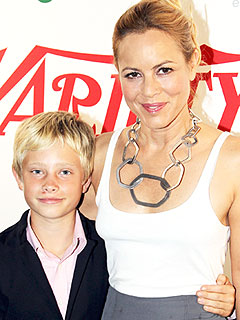 Sayles/Invision/AP
Grown Ups 2 star Maria Bello's son Jackson is doing a little growing up of his own.
And as the actress adjusts to life with an adolescent, her 12-year-old is busy testing the waters as he transitions into a teenager.
"Going from 11 to 12 was such an extreme change. He's suddenly discovering girls and becoming independent in a different way," Bello, 46, tells Sweden with Love. "He's a little snarky, but he's very cute!"
Still, the sudden switch in her son often catches Bello by surprise. "Sometimes it feels as if there's a whole new different person in front of me. It's funny!" she shares.
"This stage is so different, but it's also fun. I'm enjoying him so much. He's a great kid."

As Jackson continues to develop his sense of self, his humanitarian mama is making sure compassion is high on his list of personality traits.
Following the 2010 earthquake in Haiti, Bello immediately traveled to the disaster site and became a strong advocate among the Haitian people, working with actor Sean Penn to rebuild before later establishing We Advance, an organization that works to empower women.
While Jackson has yet to visit Haiti himself, his proud mom shares he is still a big part of the process.
"He's so invested in what we do there because we have friends from Haiti staying with us all the time. In a way, he has a Haitian family," she says.
"He's a very compassionate kid. We went to Africa four years ago and worked in the slums in Kenya. He was fearless. He walked around these slums with such generosity of spirit."
She adds, "I thought, 'If I can instill anything in my kid, it would be this sense of fearlessness and compassion.'"
— Anya Leon