Mommy & Me Chic: Gwyneth Paltrow's New LemLem Collection Is Seriously Adorable
As if we weren't already jealous of her style (and amazing post-kids body!), Gwyneth Paltrow has partnered with model pal Liya Kebede's clothing line lemlem for an exclusive collection of mommy-and-me tunics and accessories that is the epitome of summertime chic.
Sold exclusively on Paltrow's lifestyle blog Goop, the pieces are covered with bright neon stripes perfect for the beach or a family barbecue. Plus, they're made with lightweight cotton handcrafted in Ethiopia that is so soft it already has a lived-in feel.
"We were delighted to collaborate with goop on these limited edition items as we share a similar lifestyle aesthetic of embracing natural beauty and positive living," says Kebede. "The pieces stay true to the traditional Ethiopian style for which the brand is known."
The collection includes the Women's Gigi Smock Top ($213), the Kids Gigi Smock Top ($100), the reversible Lala everyday bag ($175) and the light Ishi Scarf ($140).
Since Gwyneth usually practices what she preaches on her blog, we bet we'll see the actress and daughter Apple sporting these pretty tops on vacation soon.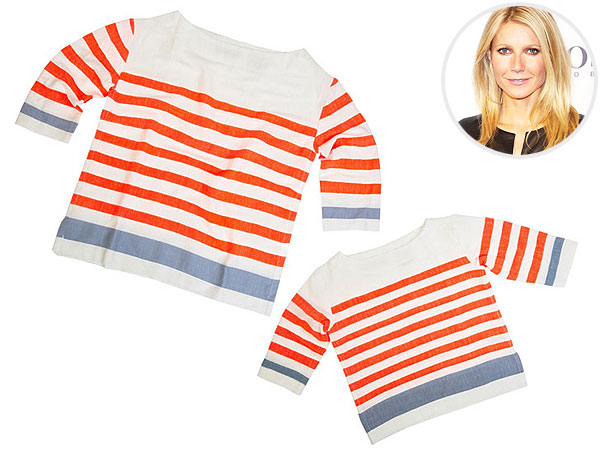 Courtesy Goop and lemlem, Inset: Carlos Alvarez/Getty