Beverley Mitchell Introduces Daughter Kenzie Lynne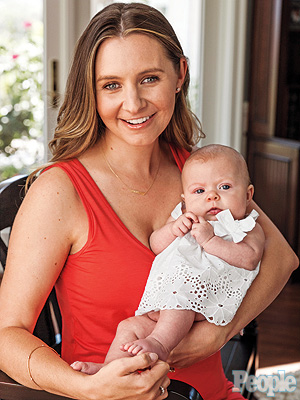 Marc Royce
Good things come to those who wait, but after close to five years of marriage, Beverley Mitchell is thrilled she and her husband finally decided to take the plunge into parenthood.
Despite the couple's list of prerequisites to parenting, the actress and Michael Cameron welcomed their daughter in March — and Mitchell admits the timing turned out to be perfect.
"We didn't think we were ready, but at the same time, what does that mean?" the new mom, 32, tells PEOPLE exclusively.
"Everyone is always waiting to be so far in their career, to have this amount of money, to travel the world or this or that. The reality is you will always find some reason that you can't do something."

The decision to delay having a baby until well after the two tied the knot in 2008 allowed Mitchell and Cameron to build a strong foundation for their family.
"It happened exactly when it should have for us," she notes.
And time is exactly what the first-time parents needed when it came to the "difficult task" of deciding on a name for their baby girl, Kenzie Lynne, now 3 months old.
"We wanted to come up with something that was fun and young," the former 7th Heaven star tells PEOPLE.
"One day Michael said, 'How about Kenzie?' and from that day forth, we fell madly in love with it. [Her middle name is the same as] Michael's mom's. Kenzie Lynne Cameron just sounds right."
For an additional photo and more from our interview with Mitchell, pick up the latest issue of PEOPLE, on newsstands now.
— Anya Leon with reporting by Raha Lewis