Gavin Rossdale: I Love Kissing Gwen's Bright Red Lips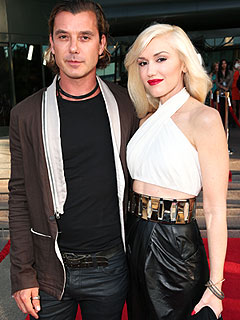 Todd Williamson/Invision/AP
Gavin Rossdale has officially given wife Gwen Stefani's signature bright red lips his seal of approval.
In fact, the Bush frontman is more than happy to sport a little of her crimson color on his own skin every once in a while.
"No, I don't worry about [getting Gwen's lipstick on me]. There's plenty of ways [to get it off] — soap and water is fine. It's all worth it!" Rossdale, 47, joked to Ryan Seacrest on Thursday.
But the supportive husband — who returns to the big screen in The Bling Ring, in theaters Friday — isn't all about kiss and tell when it comes to Stefani.
According to Rossdale, the mother of his two sons Kingston, 7, and Zuma, 4½, also takes the cake for her holiday planning skills.

"I don't know what to expect [this weekend]," he says when asked about his upcoming Father's Day festivities. "Gwen is always really good at that stuff. She knows how to make any day fun."
While Stefani knows how to keep any special surprises under wraps, the couple's boys have a harder time keeping their dad in the dark. "They're still at the age where they tell me about the surprises. Like, 'Don't go in that room, your surprise is in there,'" he says.
Rossdale may be receiving a pile of presents on Sunday, but typically it's the doting dad dishing out the gifts. "I try not to [buy them a lot of presents] because I don't want them to get used to it, but of course I do," he says.
"As soon as I walk through the door [after being out on the road] that's always the first question. So it's nice to feel loved and missed. So yeah, I bring stuff [home]."
— Anya Leon