CaCee Cobb Enjoys Bossing Around Husband While Pregnant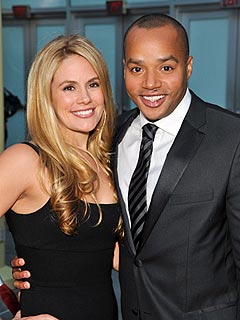 Dr. Billy Ingram/WireImage
Cacee Cobb is putting her man to work!
Jessica Simpson's expectant BFF, 35, says that as her pregnancy progresses, she's become bossier to husbandDonald Faison.
"[I tell him,] 'I need you to move this, I need you to move that. Pick up this. Help me with this,'" Cobb told PEOPLE during a May 6 TV Land event at West Hollywood's Chateau Marmont.
Echoed The Exes actor, "My character at work is a ladies' man. When I go home, I'm a b—. I'm her b—-."
But, he also added adoringly, "My wife looks amazing — amazing."
And thanks to the help of Simpson, Cobb tries her hardest not to let hormones get the best of her.
"She's been really great and supportive, even with registering and stuff for the nursery," Cobb says of the Fashion Star mentor. "She's been great about telling me what I need and what I don't need, and to sleep and to relax. She tells me not to stress out about stuff and to not kill my husband."
That's not the only guidance Simpson — who's pregnant with her second child — has given Cobb about expecting.
"Since she's already had a baby, she knew immediately when her [current] baby started kicking," Cobb explains. "And I was like, 'I don't know if mine's kicking.' Weeks would go by and I'd say, 'Yours was kicking at this point. Why isn't mine?' Now I feel it kicking, of course. But originally you think it's just gas or something."
Cobb, who says, "I think I'm supposed to feel good right now," fears " it's going to start sucking in a couple of weeks. I hope not, but that's what everybody tells me. I think I'm just so happy to be pregnant. We tried for a while to have a baby. I think now that it's here, I'm just excited. It's a little surreal. I don't think it's really hit me yet."
— Dahvi Shira