Shiri Appleby Wants Her Daughter to Remember Her 'Ethereal' Sense of Style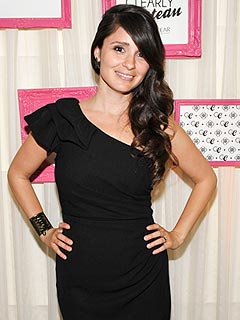 John Shearer/Invision/AP
Dressing for the part has never been so fun for actress Shiri Appleby.
Since welcoming daughter Natalie Bouader in March, the new mom has been relying on her reoccurring out of the day while still trying to maintain her feminine flair.
"When I'm on mommy duty, I relish wearing sneakers and jeans, which I've always done," Appleby, 34, told PEOPLE Thursday during P.S. ARTS Bag Lunch event at the Los Angeles home of Meredith Kaplan.
"But at the same time you want to feel cute and playful for your daughter. You want her to remember what you look like — to have this ethereal look."

In between attending mommy and me classes, Appleby recently squeezed in an opportunity to showcase her love of shopping with her 10-week-old. "I took her to buy shoes [at Jimmy Choo]. Isn't that the cutest thing?" she says.
Fortunately for the first-time mom, much of maintaining her appearance is the result of both baby girl's exceptional sleep schedule and Appleby's experience of logging long hours on set.
"Last night was a little bit bumpy, but I think I'm just enjoying the process so much and she's a good sleeper," she says. "I have to say night shoots on television shows are a lot more tiring and they also get you prepared for motherhood."
She continues, "I'm having the time of my life. Being a mom has just really changed me and opened me up a lot. I've never been so happy and grateful for things."
But what's Appleby's secret to keeping her cool during those few times her daughter's demands become too overwhelming?
"My mom has been the voice in the back of my head that's really telling me it's important — even though I feel guilty — to go out and go to auditions, go to the gym," she says.
"So when I'm with [Natalie] I'm focused on her and when she's fussy I'm not burnt out from her being fussy. I think that's why I look well-rested, because I don't feel like I've let go too much of myself yet."
Fiancé Jon Shook has also played a big part in the smooth transition from a family of two to three.
"He's the greatest! You realize that being a parent is really about being a team and I feel we're much more of a team every day," she says. "We talk about [our wedding] every day, but we just say, 'We should do a wedding,' and then we're like, 'Having a baby is a lot easier than planning a wedding!' So we're more overwhelmed by that than we were having a kid, but we're working on it."
— Anya Leon with reporting by Melody Chiu