Jewel: A Second Baby Would Be for the Benefit of My Son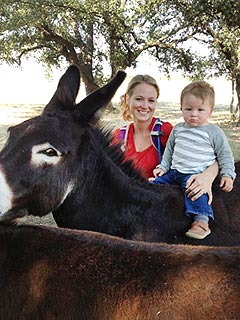 Courtesy Jewel
Completely content with her one child home, Jewel isn't looking to expand her family further any time soon.
But if the day were to come where she and husband Ty Murray were to add another baby to their brood, it would be for the benefit of the couple's son, 22-month-old Kase Townes.
"I was getting acupuncture recently and the acupuncturist said, 'You need one more!'" Jewel, 39, says in an interview with Sweden With Love.
"You always hear the first child is for you and the second child is for your first child. I'm very happy with one, but we'll see!"
For now, the couple's main concern is walking the fine line between over-indulging Kase while simultaneously teaching their toddler to be "self sufficient" as he gets older.

"I don't know of a lot of spoiled, wealthy kids who turned out well-equipped for life. I look at our son as a little gift we get to take care of until he's 18-years-old and starts life on his own," she says. "I want him to be able to take care of himself and live a happy and rewarding life, so I think spoiling him would be doing him a disservice."
Fortunately, their approach to parenting easily aligns with their sprawling 2,200-acre working ranch in Texas, where the family can often be found performing the daily duties together.
"We try to do our best and teach him that he can earn things by helping out. We're very conscious about it," she says. "He gets to learn how to take care of and love the animals. He's still very little, but he loves sitting on the tractor and help feed the cows."
The proud mama adds, "He's a wonderful little boy, and I'm so grateful he can grow up in such a beautiful place."
— Anya Leon