Courtney Lopez: My Pregnancy Is Just as 'Easy' the Second Time Around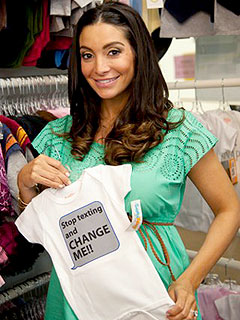 Melanie Kramer
Courtney Lopez makes pregnancy look like a walk in the park.
Two-year-old Gia Francesca's mommy — who announced in February that she's having another baby — says that aside from exhaustion, things are easy breezy.
"I feel great," Mario Lopez's sexy wife recently told PEOPLE in between an appearance at New Jersey's NessaLee Baby boutique. "I had a really easy pregnancy with Gia, so fortunately I'm having the same kind of pregnancy. A lot of things could go wrong, so I'm really, really lucky."
The ease of the pregnancy isn't the only thing that reminds Courtney of when she was carrying Gia.
"[All of my cravings are] exactly the same," she says. "I have a sweet tooth anyway, so my sweet tooth is kind of magnified by a million. I like the slushies, the chocolates, the sweets. I don't deprive myself, but I have to do everything in moderation."

And to go along with how effortless things seem to be, Courtney doesn't feel pressured by her toned hubby to drop the baby weight instantly.
"My husband is the most supportive man on the earth. He loves my booty," she says. "I lost the weight pretty quickly the first time, so I'm praying it happens the second time around."
She continues, "In three months, I was back to my pre-pregnancy weight. I did work out and try to eat healthy and follow Mario's book regimen. He has two cookbooks. I have someone in the home who can guide me in the right direction."
— Dahvi Shira