James and Kimberly Van Der Beek 'Triage' Getting Up with the Kids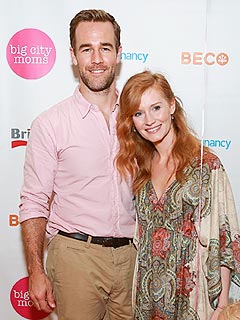 Robin Marchant/Getty
James and Kimberly Van Der Beek may have succeeded in the near impossible task that is balancing parental responsibilities.
"We've got the triage thing going. Whoever slept the least [the night before] gets to sleep," the Friends with Better Lives star and father of two tells PEOPLE at the Big City Moms Biggest Baby Shower Event on Thursday in New York City. "We take a lot of turns."
Kimberly seconds the couple's system. "Today I woke up with the kids and yesterday he did. It's pretty fair," she says.
Admittedly, the activist acknowledges that it doesn't always end up being an even split between the two.
"James is a great help, but when he's working a lot I'm picking up quite a bit more," she explains. "I'd obviously like a little more help than I've had because I'm starting to work [again]."

Attending the event so Kimberly could give a seminar on childbirth — a topic for which she is very passionate — James happily took on daddy duty, entertaining children Olivia, 2½, and Joshua, 14 months.
After her speech, James, 36, raved about his wife's presentation. "Kimberly was an activist long before I met her. I'm really proud of her. She's a great mom," he says.
And as for the days when she needs an extra hand, Kimberly follows what she says is her best piece of advice for new moms. "I recommend enlisting your friends to help out," Kimberly says. "It's hard to be 100 percent mom 100 percent of the time so it's nice if you can have family and other people helping you out."
— Michelle Ward