The Rancics Have Fun In the Sun In Mexico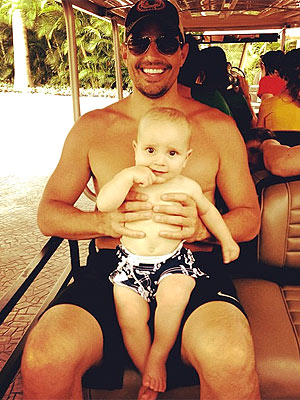 Courtesy Giuliana Rancic
Baby's first big beach trip?
Giuliana Rancic shared an adorable photo of her "two favorite guys" — husband Bill Rancic and their 9-month-old son Edward Duke — as the trio vacation at the Rosewood Mayakoba on the Riviera Maya Wednesday.
"Best family vacay ever," the E! News host, 38, Tweets. "#mexico #sunandfun"
Shirtless and in swim trunks along with his son, Rancic, 42, smiles while Duke snacked on his own finger.
"His second baby tooth came in recently and it's so cute when he smiles! He is such a happy baby and Bill and I can't wait to see him with a mouthful of teeth," Rancic told PEOPLE recently.
RELATED: Giuliana Rancic: Duke's Fiery Italian Side Is Showing