Penélope Cruz and Evan Rachel Wood Prove Rocker Tees are the New Mommy Must-Have
For the most part, Hollywood's moms-to-be make their most stylish statements in beautiful gowns and dresses on the red carpet. So you can imagine our glee when we spotted Penélope Cruz and Evan Rachel Wood taking a more cool-girl approach to their pregnancy attire while out and about.
Both expectant actresses paired retro-style concert T-shirts with jeans for a street-chic look we'd totally wear if we were sporting a bump.
While hanging with friends in Madrid on Wednesday, Cruz (who is expecting her second child with husband Javier Bardem) wore a gray Rolling Stones Voodoo Lounge top with a black biker jacket, shades and chain link handbag.
Woods, who is no stranger to rocker tees, added hip accessories (gray fedora, Ray Ban Wayfarer sunglasses and a printed hobo bag) to her Van Halen For Unlawful Carnal Knowledge T-Shirt on Tuesday during a shopping trip in L.A. The same day, she Tweeted: "Just because ur pregnant, doesnt mean u have 2 give up ur tomboy roots."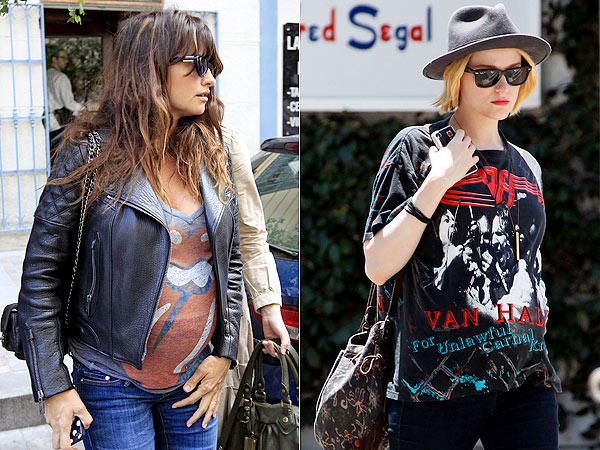 FameFlynet; Pacific Coast News