Love Basketball? Then You'll Flip Over Undrcrwn's Adorable Onesies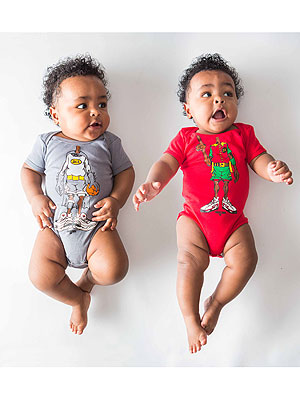 Courtesy Undrcrwn
If you're like us, you've been spending the past few weeks glued to the TV watching the NBA playoffs.
So anything that celebrates basketball gets a thumbs up in our book. That's why we can't get over the super cute and limited edition "Dynamic Duo" onesies set ($50) from Undrcrwn.
Known as the "Brand for Champions," the streetwear clothing company decided to create a mini collection featuring the original hand-drawn artwork of the company's creative director, Dustin Canalin, that pays homage to one of the sport's most well-known superhero duos — Chicago Bull's Michael Jordan (#23) and Scottie Pippen (#33).
The exclusive (only 36 were made!) bodysuits are available in sizes 3 months to 24 months.

And with Father's Day coming up, make sure to check out the company's cool "Dynasty" T-Shirts, which feature the names of basketball's most iconic teams including University of Michigan's Fab Five.