Fergie (and Her Bump!) Performs at the Vienna Life Ball 2013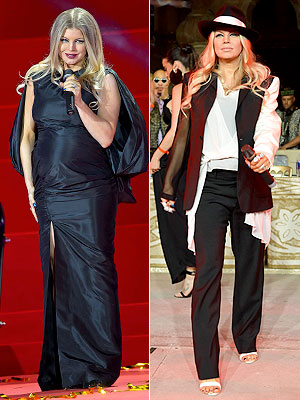 Bauer-Griffin; FameFlynet
Talk about g-l-a-m-o-r-o-u-s!
Fergie may be expecting a baby this fall, but that didn't stop her from stylishly hosting and hitting the stage at this year's Life Ball in Vienna, Austria on Saturday.
The pregnant pop star performed in two outfits — a black Tom Ford gown (Anne Hathaway wore the same one to the Les Misérables premiere) and a black and white pants ensemble (fedora, blazer, shirt and trousers) — at the annual gala, which helps raise funds to support people with AIDS and HIV.
Good pal Kelly Osbourne also attended the event, as well as Bill Clinton, Elton John, Hilary Swank and Melanie Griffith.
Husband Josh Duhamel wasn't there, but the dad-to-be is definitely gearing up for fatherhood.

"I wouldn't change anything. We're completely happy. We're much wiser than we were 10 years ago. We're much more ready. I think we're so strong as a couple and all of those things are really important when you bring a little one into the world," he shared recently.