Laila Ali: How I Got My Bikini Body Back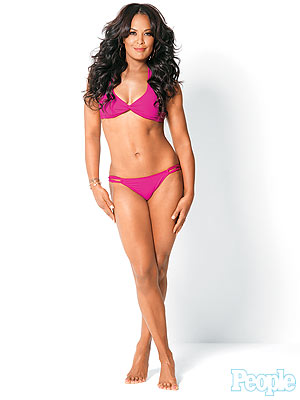 Don Flood
After delivering her second child, daughter Sydney, in 2011, Laila Ali wasn't stressed about getting her pre-baby body back.
"The second time around I knew what to expect so I was a little easier on myself," says Ali, who also has son CJ, 4, with her husband, former NFL star Curtis Conway. "Once I saw that you just have to eat right and exercise that's what I did and it worked."
It worked really well: In this week's issue of PEOPLE, Ali, 35, shows off her toned physique for her first ever bikini shoot.
"I've never done a bikini shoot before," she admits.
"I'm kind of shy, I'm not one of those people whose comfortable walking around with my butt out. But I had a baby, I got my weight down and I'm always talking about fitness and health. It's time to show people what I'm working with."

"I'm naturally a big girl," Ali explains. "I have to work to be fit. I love running. I run three times a week and I do strength training and weights. And sometimes I throw a little spinning in there."
Apart from her time in the gym, Ali watches what she eats by sticking to lean proteins and vegetables most of the time.
"It's what you do 90 percent of the time that matters," she tells PEOPLE. "I'm not really into junk food, but I like to have a cheat day no matter what, usually on the weekend. I might have pizza, frozen yogurt or a brownie."
Though the discipline matters to Ali — it's also a much-needed dose of personal time for the mom of two.
"I know how to work hard and push myself," she says. "It's my time for myself. I need to get it in."
For more on how Ali stays fit and healthy, pick up the latest issue of PEOPLE — featuring our Bodies special — on newsstands now.
— Raha Lewis