Melissa Joan Hart Reveals Her Post-Pregnancy Weight Loss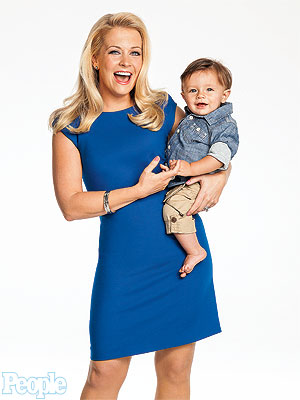 Mark Royce
After giving birth to her third child, son Tucker, last September, Melissa Joan Hart knew she would have a tough road ahead of her to lose the 60 lbs. she had gained in time to return to work on her ABC Family show Melissa & Joey.
"I was 30 when I had my first child (son Mason, now 7) and now I'm 37, so each time it gets more difficult to take the baby weight off," explains Hart, whose other son, Brady, is 5. "My metabolism has changed so it's tricky."
Following recommendations from friends who had success with Nutrisystem, Hart started the program in January and has shed 29 lbs.
"The food is really good! I don't feel deprived at all. I love the ravioli, the pizza, the mashed potatoes," says Hart, whose renewed body confidence kicked in during a recent family trip to Tahiti.

"I wore shorts!" she squeals. "I gave up on my legs years ago, but for the first time in about eight years, I'm starting to like them again."
It helps that husband Mark Wilkerson is supportive of her goals, encouraging her to leave their sons with him so that she can attend yoga and spin classes with friends, as well as work out with a trainer twice weekly.
"I'm totally satisfied and I'm on a great path," says Hart. "Being a mom made me stop being so hard on myself. My priorities are my children."
For more on Hart's weight loss, pick up the latest issue of PEOPLE — featuring our Bodies special — on newsstands now.
— Monica Rizzo