Marla Sokoloff's Blog: No … I Really Mean It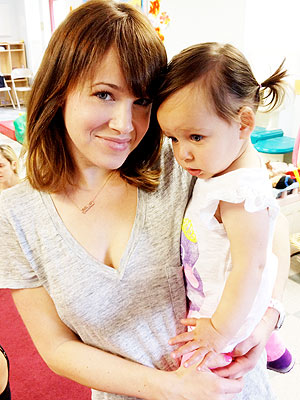 Courtesy Marla Sokoloff
Our celebrity blogger Marla Sokoloff is a new mama!
Since audiences first got to know her at age 12 as Gia on Full House, Sokoloff has had many memorable TV roles — Jody on Party of Five, Lucy on The Practice, Claire on Desperate Housewives – as well as turns on the big screen in Whatever It Takes, Dude, Where's My Car? and Sugar & Spice.
Sokoloff, 32, also sings and plays guitar and released an album, Grateful, in 2005.
She wed her husband, music composer Alec Puro, in November 2009 and the couple — plus pup Coco Puro — make their home in Los Angeles.
You can find Marla, now mom to 15-month-old daughter Elliotte Anne, on Twitter.

Holy tantrums, Batman. I'm not sure what is going on over here but we have entered a whole new universe. Aren't the terrible twos supposed to start at two?
Elliotte is at the 15-month mark so it seems as if we are getting a bit of a head start over here. It happened almost overnight. The word "no" became a constant in our house and suddenly my quiet little peach wasn't so quiet anymore. Her opinions are quite loud and frequent and she certainly isn't afraid to let me know when I'm doing something that is not up to her standards.
For instance, last week I forgot to add banana to her morning smoothie and she handed it back to me and said, "Nana nana!" Not the most subtle approach, but an effective one to say the least, as you can imagine how quickly I had that banana in the blender!
My husband and I noticed that the word "no" was not only coming out of our daughter's mouth a little too frequently, (I think I was starting to hear the words "No Mama!" in my sleep!) but it was starting to fly out of our mouths even more so. "No eating the dog food," "No standing in the bathtub," "No pulling the dog's tail," "No throwing food on the floor," "No licking the bottom of your shoe" "No this" "No that" etc…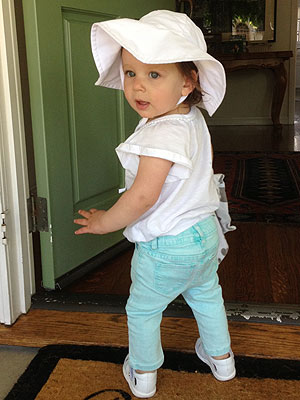 Courtesy Marla Sokoloff
I very quickly started to realize two things:
One: I didn't like the mom I was becoming. It didn't feel like me to constantly be scolding her for something or giving her that look. (You know the look parents –we all give it.) The kind of mom I set out to be (and strive to be everyday) is a perfect combination of fun and authority. A jokester that can still be taken seriously if you will.
Two: saying "no" all the time to almost every move the poor girl was making, became ineffective very quickly. Elliotte wasn't taking me seriously at all. In fact, it was quite the contrary. Within days Elliotte started walking up to certain objects she knew she wasn't allowed to touch and would point, saying, "No! No!"
The word "No" was a complete joke to her and she knew that me saying it meant absolutely nothing and had zero consequence. If my 15-month-old doesn't take me seriously now, what does this mean for me when she's a 6-year-old? Or lord help me … a 16-year-old?
Elliotte and I have been in the same Mommy & Me since she was 3 months old, and if I could bottle the wisdom we have garnered and share it with you all I would.
One of the most valuable lectures that our mommy group guru and trusted leader, Jackie Rosenberg of Babies First Class, has given was the infamous "No" lesson. This discussion came at the very second that we were stuck in our "No" vortex, so I was willing to try anything.
Jackie told us mommies to pick only three things that we felt very passionate about saying "No" to and stick to them. Three deal breakers that just could not be negotiated. Her theory is simple: if you are saying "No" all the time, your child will never listen to you. Case in point: Elliotte Anne.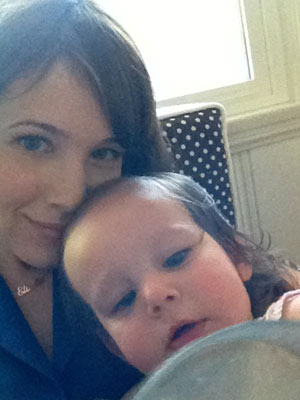 Courtesy Marla Sokoloff
Here are the three "No's" that my husband and I agreed were the most important to us:
NO #1: Eating or Playing with the Dog's Food
This is a tricky one. Many with common sense may think- just pick up the dog's food or feed the dog after the baby goes to sleep if it's an issue. This was just not something I was willing to do.
Coco Puro is an old lady who doesn't have many pleasurable things in her post baby life — I sure as heck won't be taking away her 24-hour buffet, that just seems cruel! So the dog food stays and Elliotte must wait for bath time to splash water on her face. She ate the kibble once and I'm pretty sure she won't be tasting that delicacy again anytime soon.
NO #2: Standing in the Bathtub
We picked this one for the obvious safety reasons. Bath time, which was once a joyous and fun occasion, has morphed into the most dangerous 10 minutes of the day. Honestly, I'm thrilled and shocked the girl still has all of her 12 teeth still intact! Not only does Elliotte stand in the tub, she also enjoys walking in the tub, which pretty much gives me a full on heart attack every time she does it.
We've had many a close call, which in part is why I've had to bust out my "mean mom" attitude just a wee bit at bath time. I do it for the good of her precious little face and because the emergency room is just not a place I feel like visiting in the near future.
Miracle upon miracles, just in the past week or so the message has been received and Elliotte is now sitting in the tub! She sits and plays with her toys and actually cries when it's time to come out because she is enjoying it so much. Who would have thought?
Side note: Whenever Elliotte is doing something that seems unbearable — it always shifts at the very moment that I feel I can't take it anymore. Bath time was certainly one of those things because I was always so worried she was going to crack her head open. (Geeze — now I'm sounding like my mom!) So now I take a beat before freaking out and losing hope because I know in my heart that it's a phase and they will all sit down in the tub eventually!
NO #3: Throwing Food While In the Highchair
Elliotte has become quite the picky eater. Gone are the days where she would gladly eat anything. Pretty much every single thing I put on her tray aside from berries, fruit or yogurt is fast rejected.
If I see even a glimmer of her liking a new food I will make her a homemade version of it. Pasta with meatballs off a kid's menu equals a Bolognese in my trusty slow cooker the very next day = FAIL. Icky frozen chicken fingers turns out lightly breaded organic strips fresh from the oven = NOT SO MUCH.
In my cooking's defense, there have been many items she has enjoyed thoroughly. Roasted beets, broccoli soup, sweet potato bites, slow cooked black beans and my famous banana bread have been huge hits!
Elliotte will let me know she isn't enjoying my cooking by vehemently throwing whatever is on her tray on the floor. Or even worse, across the room. After she does said throwing, she gets (and do not tell her I told you this!) the cutest little grin on her face which makes me want to bust out laughing, which I of course do not. That would definitely break about a million rules in the "Getting Your Toddler to Take You Seriously Handbook."
Instead I insert one of my trusty authoritative "No"s and that will occasionally get the job done. By occasionally, I mean never. We are still working on this one — the process is not flawless.
This "No" really only gets under my skin when we are eating at a restaurant or when my floor is littered with food I spent hours preparing.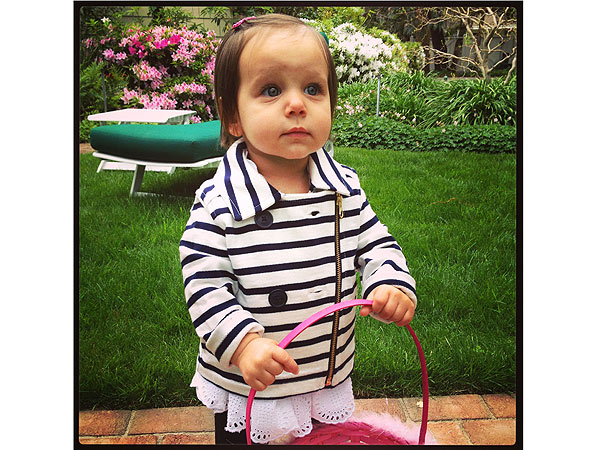 Courtesy Marla Sokoloff
Trust me when I say that I'm well aware of the fact that this is only the beginning of her defiance and opinions. I'm actually happy that Elliotte has something to say and that she doesn't let her old Mom get away with much!
To be 100 percent honest, I wouldn't change one single solitary thing about her. It is literally impossible to have a bad day when she is around. Her laugh is without a doubt the most incredible sound I have ever heard and this kid is outrageously funny. I want to squeeze and kiss her all day but she's got better things to do — she's very busy.
It's true what they say … it gets better everyday.
Would love to hear your "No"s or maybe you don't say "No" in your home at all? Share away! Leave a comment below or find me on Twitter @marlasok.
Until next time!
xoxo,
— Marla Sokoloff
More from Marla's PEOPLE.com blog series:
Exciting Giveaway Alert: Burt's Bees Baby is giving away a $100 gift card to 20 lucky readers! They have tons of cute baby essentials that make amazing gifts for any new mommy or daddy that you may know. My personal favorite is the adorable Bee Essentials Take Me Home Striped Basket.
All you need to do is head on over to Twitter and tweet us @marlasok AND @CBBVips with the answer to the following trivia question: "Name the actress that introduced me to my husband Alec?" Don't forget to include the hashtag #MarlasBees. Winners will be notified directly. Good luck!
The Rules: No Purchase Necessary to register and/or participate in this program. Program begins at 5:30 p.m. ET on 5/24/2013 and ends at Ms. Sokoloff's discretion. All entrants must be age 18 or older at the time of entry. Limited to one entry per Twitter account. Where PEOPLE.com is not the sponsor, it cannot guarantee the availability of any of the items described. Void where prohibited by law.