Anne Heche's Blog: Is It Ding-Ding Time?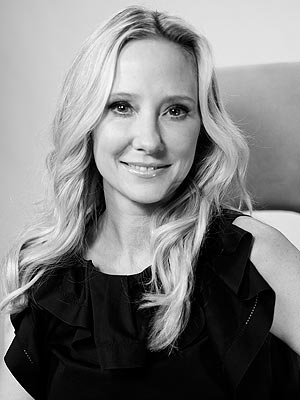 Anne stopped by the office – Ben Trivett/People.com
Thanks for welcoming our celebrity blogger, Anne Heche!
Best known for her roles on Men in Trees and Hung, the actress, 43, also starred in Return to Paradise, Six Days Seven Nights, Donnie Brasco and Wag the Dog.
She stars in NBC's new comedy Save Me — premiering Thursday at 8 p.m. — and recently launched Tickle Time, a line of mineral powder sunblock for kids.
Heche is "forever engaged" to James Tupper and is mom to two sons: Atlas, 4, and Homer, 11.
She can be found on Facebook as well as Twitter @AnneHeche.
In her latest blog, Heche shares her trick (yes, it involves bribing) to enduring a 15-hour spring break car ride. Plus, a special video for her blog readers!

Who doesn't love a family vacation? Spring break is always a time for excitement and anticipation. Where will we take the kids this time? This year, James and I decided to take Homer and Atlas skiing. Homer had only been snowboarding before and Atlas, just having turned 4, hardly remembered seeing snow, let alone flying down it on shoe-slides. I researched every ski location in the Western United States, but had my heart set on Utah.
Our family had been to Park City, but only for the Sundance Film Festival, which is hardly the time to ski or take in the glorious sights. During the festival, the streets are so crowded with Hollywood folk, you can barely see a building 10 feet in front of you, let alone the mountain.
I have been there many times, most recently for That's What She Said and the first Walking and Talking. Years of memories are filled with great moments of celebration, casts and directors jam packed like sardines in screening rooms, hoping, praying our movies will be well-received and perhaps even get distribution.
For the best festival parties, you always drive up the steep, winding Park City roads to Stein Eriksen Lodge. Views of snow capped peaks, blazing fires, stuffed moose heads and bubbling champagne greet you upon arrival. I shared with James that as I stood in that lodge many times, I imagined that one day I might take my family there to ski. And simple as that, the destination was chosen.
Now all I had to do was start planning — EEK! How will we get there? What will it cost? Is the lodge good for kids? What will they wear? Do we need one room or two? Will the kids sleep together? What if Homer hates it? What if Attie gets hurt? How much are tickets? Do you pay for the week? Can we get a discount? Can I get an Advil? Or three?! Is this why people have travel agents? Ahhhhhh!
I was online for what seemed like days. The whole trip was becoming more and more daunting the more I looked into it. Flying is expensive, ski clothes are expensive, lodging is expensive, babysitters ex-pen-sive, dog hotels…? You got it! Meals, deals, rentals, purchases … expensive, expensive, EXPENSIVE! OMG!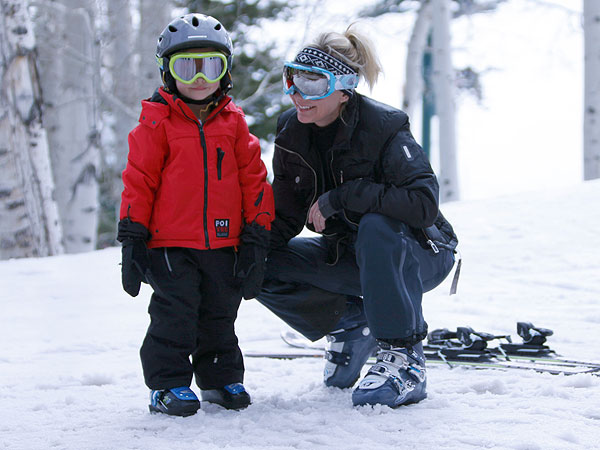 On the slopes with Attie – Courtesy Anne Heche
"I don't know how anyone does it! This is NOT cheap!" I blurted out to James one midnight after staring at airline discount sites for way too long. "Don't sweat it, honey," he said seeming to dismiss all of my hard work. "Let's just drive!"
Just drive? JUST drive?! Why didn't he say so like, say … three days earlier? Like THREE DAYS before he saw me staring at my computer screen finding, comparing and sorting out all the various AIR TRAVEL possibilities I could find that might save us a thousand dollars or two. A thousand dollars that we would use toward nice dinners say, or nice babysitters that I could pay nice sums of money to while we were enjoying a nice couples massage in the super-fancy, ultra nice SPA I had been salivating over!
"DRIVE?!" It was probably obvious to him and the neighbors by now that that was NOT the solution I had been thinking of. "Did you have a different idea in mind, Bubbles?"
I don't know if any of your husbands have pet names they use on you when they know they've crossed a line that's NOT good, but they know that they're right anyway so they use it just to tick you off, but I do and mine is "BUBBLES."
I calmly gathered my thoughts and pursed my lips in that, "I'm not going to argue with you, but actually I do I know that I'm right and you're wrong" kind of way, and sputtered, "Do you really think that's a good idea, what with Attie not being able to sit still for 30 seconds in a shopping cart, let alone fif-teen hours in a car seat with a seatbelt nailing him to the earth?!" I sometimes separate my syllables so that James knows that "Bubbles" does not like his solution and he should listen to mine before I blow fire out of my nostrils.
"He'll figure it out," James continued, completely ignoring my now flared you-know-what's. "Family car trips are good for kids, they learn to get along, we sing songs and stuff. It'll be fun." "FUN?!" I balked.
It's like swallowing chalk when I feel like my efforts to make life wonderful for my husband and boys go unnoticed. Yes, of course, for him life is a breeze. A car trip is a breeze! Because HE doesn't have to THINK about it! HE doesn't have to PLAN it! What is he thinking instead? No big deal … this will be fun! Fifteen hours in a car, Atlas and Homer in the back seats playing patty-cake silently for 500 miles, singing camp songs, enjoying each other's company and brother-bonding like all 11 and four-year-olds do.
Yeah, right. Knowing all too well I wouldn't be able to change his mind, I set to work. I started organizing all the things I would need to take: iPads, Mad Libs, binoculars, computer drives, movies, books, earphones, coloring utensils, magnetic blocks, blankies, sippy cups, wipes, snacks, bribes … bribes?
The day had finally arrived. Everyone was psyched. Arms loaded with reading materials, the car snugly packed, dogs at the doggie hotel, we pulled away for our first destination: the gas station — two and a half blocks away from the house. Could we handle it? Yes we could.
As James filled up, I snuck inside. Yes, part of the fun of a road trip is the junk food. (And part of the horror is the crumbs in the back seat.) But I couldn't think about radioactive food coloring or crumbs! I made a pact with myself that I wasn't going to bother with moaning or yelling about the messes that would most certainly accumulate in on the floor, in the seat, or on their shirts from finger wiping. There are vacuums for that sort of thing and crumbs would most certainly be the least of my worries going state-to-state.
What I really needed were BRIBES. Yes I said it. I am not ashamed of it. I bribe my kids sometimes. And it works for the most part! But this time, this particular bribe turned out to be the smartest, most remarkable bribe of all time: TIC TACS. Yes I said it, the teeniest, tiniest little candy known to man, saved my fif-teen hour car rides' butt.
Tank full, treats bought, we were heading to destination Snowy Mountain. "Ahhhhhhh…" It was silent for about five seconds before, "Mommy! MOMMY!" Attie was adamant. "I need those ones!" He was hitting the seat and pointing at Homer's bag of chips. Apparently, he didn't have the same chips Homer had and he was pissed about it. Homer explained that I had bought two different kinds of chips rather than the SAME kind of salt and vinegar for BOTH boys, "No one likes plain chips, Mom. You should never buy plain." But Atlas was still screaming.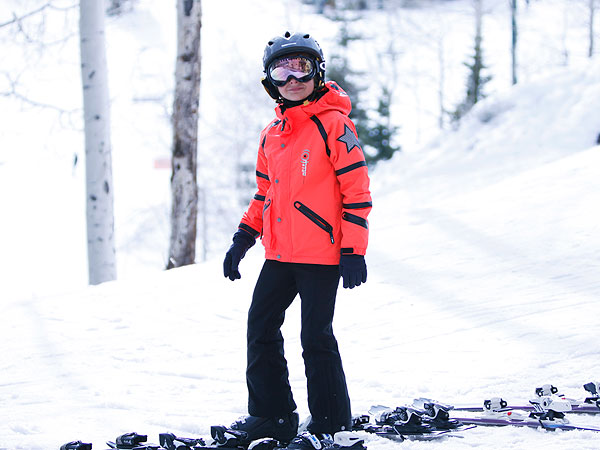 Homer – Courtesy Anne Heche
We had only been in the car as far as the gas station is from the house, less than one mile, exactly 14 hours and 55 minutes left to go. "Mom-mmmie!!!" cried Atlas. "Honey, could you deal with that?" James said as he happily opened a travel coffee.
A smile came across my face. "Yes, James," I said. "Yes I can." Mommy is always ready with a trick up her sleeve, and today was no different. In my pocket I had TWO packages of the exact same flavor Tic Tacs. One for each boy. Neither could complain. Now was my chance to harness the power of the MOMMY BRIBE!
I started shaking the rectangular plastic packages, ever so gently at first and then a little faster. The boys fell silent. The clickity-clackety sound of the candies hitting the plastic was paralyzing.
"What's that?" Atlas lit up, his eyes beaming, sadness and discomfort evaporated. "Yeah, Mom. What is that?" Homer chimed in, equally as expectant. "What's that?" I took my time. "What's what?" I asked. "That noise, Mom! What IS that?" Atlas begged. "Oh!" (Make them wait for it… ) "Oh!!!! These? THESE?" I feigned surprise, my eyes equally as bright as theirs. "These are my ding-dings, boys." "Your ding-dings?" they asked. "What are ding-dings?"
I slowly turned to the boys, pulled the packages out of my pocket and held them up for the boys to see, "Ding-dings are your rewards for good behavior on this road trip," I explained, overly serious so that each boy understood the gravitas of the ding–ding.
"If you behave for a certain period of time or a certain distance of miles traveled — and by behave I mean no whining, crying, screaming or hitting … your behavior will be rewarded with a ding-ding." They were so excited they could hardly contain themselves.
I continued, "The ding-ding will sound like this" — I paused for great effect and then like a bell, starting dinging like a nutty bell tower. "Ding ding ding ding ding ding ding!" Everyone laughed. It seemed Mommy might be on the verge of success.
"Is it ding-ding time now, Mommy?" Atlas asked with a smile so sweet it would kill you, "Not yet, Atlas! It hasn't even been a minute, you have to wait at least an hour!" "Yeah, Atlas, so no whining," Homer added. "Or begging, it's up to Mommy."
And with that I knew I had them. Nothing like something to anticipate to promote good behavior. A reward system: They've been in place for years with good reason. Homer would keep Atlas calm so that he could get his Ding-dings, Atlas wouldn't disappoint Homer and I wouldn't have screaming and punching in the fif-teen-hour car ride. "Brilliant," I heard James whisper. We entered the freeway and started heading north.
"Mommy?"
"Yes, Atlas?"
"Is it ding-ding time yet?"
"Not yet, Attie."
"Quit asking, Attie." Homer scolded. "She'll tell us!"
And I did. The Tic Tacs lasted the whole trip and even James and I enjoyed a ding-ding along the way!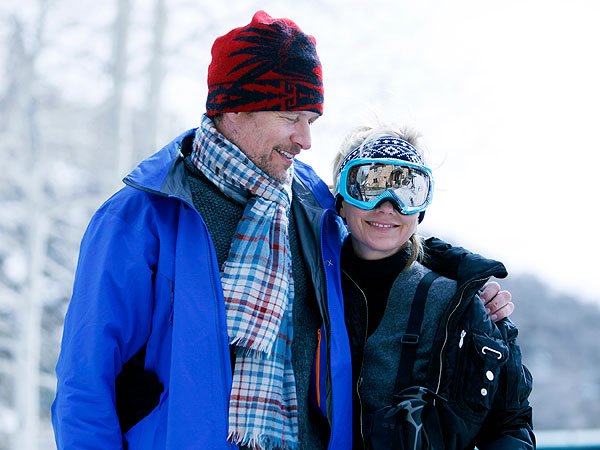 James and me – Courtesy Anne Heche
— Anne Heche
Editor's note: Anne was in New York City this week promoting Save Me, so she stopped by for a little PEOPLE video! Here's a sneak peek just for her blog readers: