Kim Kardashian Shops for Baby In Paris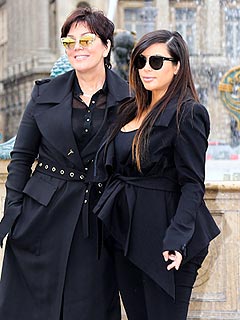 KCS Presse/Splash News Online
Kim Kardashian didn't let a quick trip to Paris — her last according to her recent Twitter post — interfere with her nesting mode.
In between business meetings and sightseeing, the reality star (who is due in July) and mom Kris Jenner made sure to make time for a little shopping in the city's St. Germain district on Tuesday.
Luckily, they stumbled upon Ovale, a high-end baby boutique, where they picked up clothing and eyed the shop's selection of mini silver jewelry and cuddly toys, including a handmade plush teddy bear.
The trendy mom-to-be gave no hints as to whether she's carrying a boy or girl says a bystander. Either way, Ovale is known for its "don't ask policy" and its luxe, gender-neutral goods (think beige, ivory, etc.) that are perfect for any sex.

Kardashian and Kanye West are also keeping people guessing with their cream music box shower invite, which features a ballerina dancing to a lullaby version of the rapper's hit, "Hey Mama." Talk about cute!
—Shanelle Rein-Olowokere with reporting by Peter Mikelbank