Elisabeth Röhm's Blog: Locked Down In Boston with Easton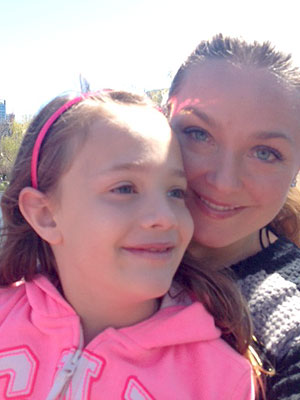 Boston Common – Courtesy Elisabeth Röhm
Elisabeth Röhm, best known for her roles as Serena on Law & Order and Kate on Angel, has been blogging for PEOPLE.com for over two years now.
The actress, 40, currently stars as Taylor on The Client List, and recently wrapped filming on American Hustle, David O. Russell's latest movie.
Her book, Baby Steps: Having the Child I Always Wanted (Just Not As I Expected), was released in April.
She can be found on Facebook, Google + and on Twitter @ElisabethRohm.
In her latest blog, Röhm — mom to 5-year-old Easton August with fiancé Ron Anthony — recounts her experience in Boston during the bombings, and its effect on her and her daughter.
The day the horrible bombings took place, my daughter was flying to Boston — where I have been shooting David O. Russell's latest movie for the last month — to join me. I'd been there for weeks alone, getting established and aching for Easton's sweet butterscotch kisses and energetic hugs.
I'd been anticipating her arrival by getting tickets for the Big Apple Circus, planning out days filled with museum visits and aquarium adventures and stocking the hotel we'd be hunkering down in with goodies, games and fun projects to entertain and pass the hours.
I was psyched! She was psyched! We'd been missing each other and even though she was thriving in her routine at home with school, play-dates and some serious Daddy-bonding, we are two girls who are attached at the hip. The time had come to reunite and it was going to be divine.
I'd spent endless hours on Skype with Easton, telling her all about beautiful Boston and how fun it was going to be for her when she got here. There wasn't a moment of our days that had not been organized with activities that would allow us to explore and celebrate being in a new environment together.
Globetrotting is one of the many perks of being an actor. Although it creates some obstacles in the "normalcy" (whatever that is) of home, we see it as a blessing in my family. Easton has been all over the world since she was an infant, and it's pretty apparent that she embraces the adventure of new places, things and people.
She melts my heart when she says, "Let's go on an adventure, Mama" — words I know I've taught her. Openness to uncertainty and a curiosity for the unknown is a part of her nature. Perhaps it's something I've encouraged, but now we share it together, this quest and thirst for newness, renewal and a comfort in discovery.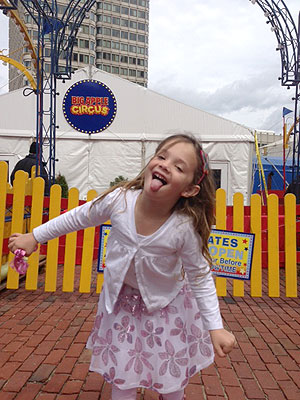 So excited for the show – Courtesy Elisabeth Röhm
The Boston Marathon was happening on April 15, the day that Easton arrived. The energy was palpable. The celebration was strung through the air like holiday lights, twinkling with anticipation. The weekend hustle and bustle of my hotel had been thrilling as people brimmed with eagerness to get their run on.
They'd traveled from all over the world to participate and their families had come to cheer them on. The hotel was stocked with kids of all ages and I was grateful to know that Easton would be able to make pals with kids from all corners of the earth when she got to Boston. Little people like little people! Perhaps she'd make a new friend that she'd never forget in the pool.
I have to say, not being a marathon runner myself — as of yet, anyway — they are a happy lot! Freedom-seekers who delight in these runs and their colorful gear seems to underscore their vibrant love of life, the body and community. Many of them travel from city to city to participate and the marathon is their social scene. The hotel was full of spontaneous celebration! It was a party all weekend and I was pleased that Easton would be arriving on a day filled with so much joy.
I planned to attend the marathon since I was there in the hub of it all. Just minutes away from the finish line, it seemed like the thing to do! I was busy running around finishing up my mommy errands, turning our simple hotel life into our temporary home for a few weeks. I was grocery shopping and getting pink (everything of Easton's is PINK, PINK, PINK) flowers, arranging all the wonderful games that would light her fire. As I wound down my to-do list, I had about an hour to spare before I was to head to the airport and get my darling daughter. Woo-hoo.
As I unloaded my packages, I was tossing around a big dilemma … I thought, "Finish line or nap, nap or finish line?" It was a toss-up as I had been swept up by the infectious joy I'd witnessed all weekend. People bopping around in their florescent sneakers, uproariously laughing, back-slaps of encouragement — well-wishers from all over had gotten me in the mood. I wanted to be there whistling and cheering! But I was a little tired. It was a long week of shooting, plus my five-year-old was arriving and that would certainly keep me on my toes! Right?!
I lay in the bed, closed my eyes and rested. Somehow that hour passed real quick! Soon it was time to drive to the airport. I knew nothing as I joyously walked through the hotel to the front door. The moment I stepped outside and smiled at the valet, four girls piled out of their taxi openly sobbing.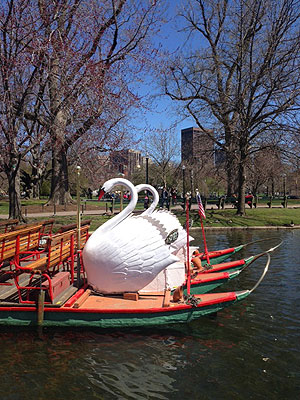 Swan boats – Courtesy Elisabeth Röhm
I thought one of them might have gotten hurt so I naïvely asked, "Are you okay? Did you get hurt running?" They just looked at me, eyes filled with terror, and said, "There were bombings at the finish line." They moved into the hotel shocked, broken and in fear. Like little girls, they huddled together trying to comfort each other.
I looked around to see if anyone else seemed to know about these bombings. One by one, people kept being dropped off from cars in tears. My car suddenly pulled up in front of me. It was time to go get Easton. I thought, "Oh my God — there has been a terrorist attack and my daughter is about to land in less than an hour." I jumped in, turned on the news and hauled ass to the airport.
The calls poured in from all my family and friends warning me to stay in my hotel and not to leave. I simply said, "I'm driving to the airport to get Easton. Once we are back in the hotel safely, I'll call you." What was going on?!
The airport was in serious chaos when I arrived. Runners walking shell-shocked through the hotel on phone calls with loved ones, security and police gearing up for what would be a heinous week here in Boston. Everyone was talking to strangers and sharing in the fear, grief and confusion of the moment. It reminded me of 9/11.
Then the doors opened and Easton came bounding into my arms. We must have hugged for 30 minutes, squealing with delight and showering each other with kisses. It had been a long couple of weeks away from each other. I held onto her for dear life, not knowing what I had brought her into by having her come to Boston.
Our adventurous plans were squashed as I gathered her suitcases and raced all of us to the car in hopes that the quicker we made it back to the hotel, the safer we'd be. I didn't know if roads would be closed or what the reaction to the bombings would be. I didn't know anything. Nobody did at the time. It was a city under attack, with chaos and pain. I had to get us into our hotel room and get a handle on what was going on around us just blocks away from our hotel.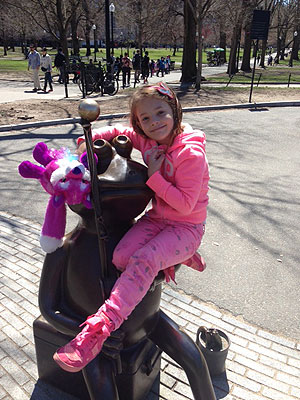 Boston Common Frog Pond – Courtesy Elisabeth Röhm
I tried to speak in vague terms with Tammy, my dear friend and Easton's nanny, about what had happened at the marathon. It was awkward, as I didn't want Easton's happiness to be with me in Boston to be ruined or affected by the horrific events of the day. I also didn't want her to be afraid.
Once we got to our room, I didn't run to the TV and turn on the news, even though I was concerned and wanted to know every detail that was available, just like the whole world. Instead, I read the news on my iPhone as a way to protect Easton.
People kept calling and I'd have to say things like, "Yes, we're okay. Yes, Easton and Tammy are here. We're not leaving the hotel. It's okay. We're okay." But the truth was, we weren't okay because there were people in Boston that night that were suffering. People were injured and people had died. Everyone was living in fear with broken hearts over the tragedy.
Worse, the officials had absolutely no idea where the criminal who had orchestrated these cruel acts of violence was. There I was with my five-year-old, thinking, "What do I say to her? Do I explain this to her?" I was just thankful that it was late afternoon when they got in. That way, it didn't seem odd that we went to our room and stayed there for the rest of the day.
I chose to say nothing.
As the days went on, it was hard to continue pretending that all was okay. You couldn't find a corner where the incident wasn't being talked about. People were gawking at the TVs and there were police everywhere. On Tuesday, we went to a museum that happened to be right next door, but that was about it for our day's activities.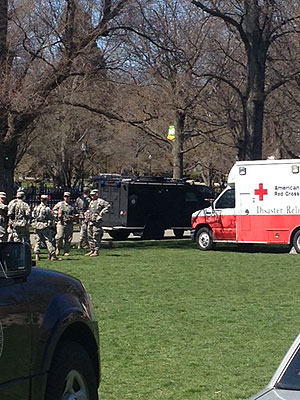 Unsettling scene – Courtesy Elisabeth Röhm
Soon after, the city went into actual lockdown. What do you say to your child who wants to go out and play in the sunshine? How do you tell them that leaving the hotel is not an option AT ALL? I told Easton a little bit more — "We can't leave the hotel today, sweetie. The police want us to stay inside to be safe." She never asked any questions. I guess I was lucky.
Obviously everything, including production on the film, was shut down. We went to the pool where she made those friends I'd thought of before she'd arrived. We spent the day inside as the manhunt escalated.
It was surreal to watch the children laughing and splashing in the pool while the adults would make eye contact, not uttering a word but shaking their heads in dismay, hurt and confused about what was happening all around us.
Lockdown in our hotel. That was what it was like. I had escaped having to explain anything really — bombings, terrorists, death, anti-American acts of violence. We didn't have to talk about it because she is 5. Her world is Mommy. When Mommy is fine and normal, then Easton is fine and normal.
And so I was. I acted as if all was okay when it certainly was not. She didn't need to know about such things. It shouldn't be a part of a five-year-old's world.
The next day, there was no safer place to be than in Boston. The world was watching. They'd captured the perp. We finally bounced to the park to relish our new freedom (something we'd taken for granted) and the carousel of Boston Common. I tried to be in a joyous mood like her as we absorbed the day.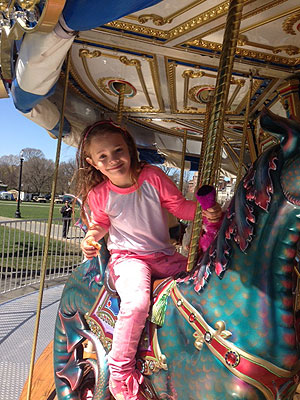 Commons Carousel – Courtesy Elisabeth Röhm
There they were: police, military, special ops, FBI and of course, the Red Cross. Trucks spread all throughout the park. It was hard not to have to explain a little bit more as Easton innocently asked, "Mommy, why do they have guns?" "To keep us safe," I replied, matter-of-factly.
As we walked hand-in-hand under the sunshine with the season springing all around us, it was impossible not to think of those families. Their lives had been torn apart by the bombings, and they were doing anything but strolling through the park on a pretty day.
My heart was and still is with them.
— Elisabeth Röhm