Nick Lachey 'Broke Down and Cried Like a Sobbing Child' at Camden's Birth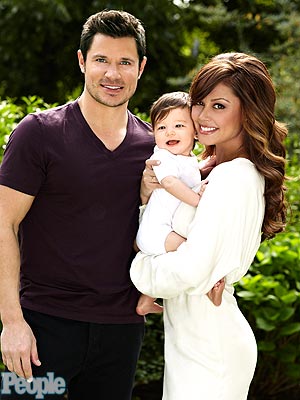 ANDREW SOUTHAM
Fatherhood was always something Nick Lachey dreamed of but it wasn't until eight months ago, when he and wife Vanessa welcomed their son Camden John, that he could have ever envisioned such peace.
"It's been a long time since I've felt this calm," the singer, 39, tells PEOPLE. Despite juggling hosting duties for two NBC shows, a new album with 98 Degrees, his solo album, A Father's Lullaby, and a summer tour on the road with New Kids on the Block and Boyz II Men, the first time father is cherishing every second with his family of three.
"I had a lot of expectations for what fatherhood would be because I thought about it for so long but when it happens, it blows your mind every day," he says. "This little creature that you created, that looks to you and depends on you, and just brings you so much joy, you just can't put it into any kind of words. Your kids are the biggest blessing you could ever possibly have in life."

And on that September day when Camden came into the world, Lachey admits there was nothing that could have prepared him for that moment. "I broke down and cried like a sobbing child," he says.
But it was those emotions that Lachey was able to pour into his lullaby album, a combination of six original songs and eight covers, that became a gift to his son.
"It was a great way to get it all out and express what I wanted to say but also do something for him. It was inspired by Camden and it's for the two of us."
Camden's first summer will be spent on tour with his parents, something Lachey wouldn't have any other way.
"I know how much he changes day to day and I can't imagine being away from him for months on end; I wouldn't do it."
For more on Lachey's life with his family, pick up the latest issue of PEOPLE, on newsstands now.
— Jennifer Garcia