Giuliana Rancic: Duke's Fiery Italian Side Is Showing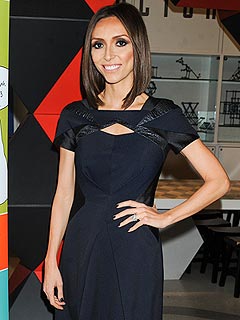 Demis Maryannakis/Splash News Online
Giuliana and Bill Rancic's infant son Edward Duke is on the cusp of a new milestone.
"He's been going, 'Mama mama, Dada dada,' but I don't know if he knows what he's saying," Giuliana tells PEOPLE at the launch of new mobile healthcare communications tool pingmd in New York City on Wednesday.
Potential baby talk aside, the proud parents couldn't be more thrilled with how their 8-month-old baby boy is doing.
"Bill asked me the other day how we know if we're parenting right and I told him, 'You know you're doing something right when you have a happy baby who laughs and smiles,'" she shares. "I swear he is just the cutest, smartest, most alert baby ever."

"Right now his personality is kind of split between Bill and I," adds Giuliana. "When he wants something really bad, the fiery little Italian comes out — his arms go down to his side, he turns red and goes, 'Grrr.'"
As for how he's more like dad?
"He's going to be an athlete," says Bill. "He can do whatever sport he wants, but eventually, I want to be the coach of his Little League team. And [Giuliana's] going to be the crazy mom that they kick out of the stands."
Jokes aside, the joyous duo shares that family will naturally be their priority this Mother's Day, her first as a new mom.
"The one thing I'm doing is first thing in the morning, putting an auto response email out that says, 'It's Mother's Day and I'm unplugging for the day to be with my family,'" says Giuliana.
And while the holiday is Sunday, her doting husband already surprised her with a special gift earlier in the week.
"Bill got Duke's birthstone — which he pointed out is also mine since we were both born in August — as a necklace," Giuliana shares. "It was very sweet."
— Haiwen Lu