Giuliana Rancic: How I Will Celebrate My First Mother's Day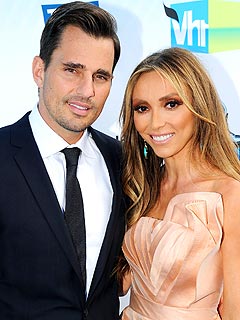 Jeff Kravitz /FilmMagic
After years spent trying to start a family together, Giuliana and Bill Rancic's dreams finally came true when they welcomed their son Edward Duke in August.
With the couple's baby boy now 8-months-old, the new mom is in complete baby bliss and can't get enough of her giggly guy.
Set to celebrate her first official Mother's Day Sunday, the Fashion Police co-host spoke exclusively to PEOPLE about her weekend plans, carrying on childhood traditions, Duke's latest milestones and her new partnership with Gyft.
PEOPLE: How do you plan to celebrate your first official Mother's Day?
Giuliana: I will probably spend the day relaxing at home with Bill and Duke. There's nowhere else I would rather be. Bill and I have also talked about flying our mothers in for the weekend, too.
My journey to motherhood was not an easy one and I am so excited to be able to finally celebrate it as a mom.
PEOPLE: How was Mother's Day celebrated while you were growing up? Are you carrying on any traditions?
Giuliana: As a child in Italy and later in America, my mom was always in the kitchen. On Mother's Day, we would give her a break from the kitchen and cook a big Italian meal of different pastas and enjoy it together as a family at home. We will definitely carry on the tradition of togetherness at home.
PEOPLE: Why did you decide to partner with Gyft? How will you use it personally?
Giuliana: The idea behind Gyft is genius. It is the perfect way to organize and manage your gift cards, as well as send gift cards to family and friends at a moments notice.
The moment I downloaded the Gyft app, my life became easier. It took away all of the added clutter in my wallet and purse and has been a great resource for gift card gifting in a snap!
PEOPLE: What are Duke's latest milestones?
Giuliana: His second baby tooth came in recently and it's so cute when he smiles! He is such a happy baby and Bill and I can't wait to see him with a mouthful of teeth.
PEOPLE: What's your favorite part of his personality?
Giuliana: His personality is really starting to show. He's constantly smiling and laughing and he is quite the flirt. He loves it when I invite my girlfriends over!
PEOPLE: Tell us the funniest thing he's done lately.
Giuliana: Duke laughs all the time and it cracks us up because it is such a funny sound. It's kind of cartoonish in a way. Paired with his bright eyes and big smile, it's just so cute we can't help but laugh with him!